Creamy Dandelion Greens With Goat Cheese Gratin Recipe
Dine on a Dandy Dish of Dandelion Greens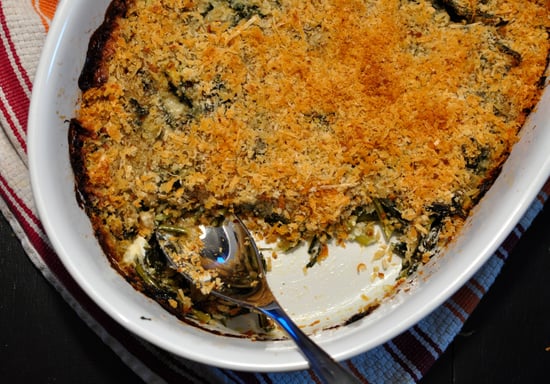 Before Spring sets and Summer is here, I had to try cooking dandelion greens. I've worked with just about every green except these bitter weeds. Thus, I picked up a couple of bunches at the local farmers market and got to work on this creamy dandelion dish.
To prep the tough greens and ensure that they are tender, you must blanch and steam them under a clean dish towel before assembling the gratin. The bitterness of the dandelion greens is cut by the addition of tangy goat cheese, salty parmesan, and garlic-infused cream.
To contrast the creaminess, the greens are topped with panko breadcrumbs, which results in a crunchy crust. This decadent dish is great served with beef or lamb and is just as delicious reheated — making it a new potluck favorite. Give this green gratin a try and keep reading for the recipe.
Ingredients
1/2 teaspoon unsalted butter
1 pound dandelion greens, about 1 large bunch
1 cup panko crumbs
3 tablespoons, plus 1/4 cup finely grated Parmigiano-Reggiano
1 1/3 cups heavy cream
2 garlic cloves, smashed and peeled
1/4 teaspoon lemon zest
1 1/2 ounces goat cheese
Salt
Pepper
Directions
Position a rack in the center of the oven and heat the oven to 375°F. Coat a shallow 5-to-6 quart gratin dish with butter and set aside.
Fill a large pot three quarters full with water, add 2 teaspoon salt and bring to a boil over high heat. Trim the greens of their lower stems and submerge the leaves in a large bowl of water, swished to release any grit.
Transfer directly to the boiling water and cook until tender about 3 to 5 minutes. Taste a leaf after 3 minutes and if it's still tough or stiff, cook for 1 or 2 minutes more. Drain and spread the greens out on a rimmed cookie sheet lined with a clean dishtowel. Cover the greens with the dishtowel to allow to steam and release the moisture, about 10 to 15 minutes. Gently wring out the greens with the dish towel.
In a small bowl, combine the bread crumbs and 3 tablespoons of Parmigiano and pinch of salt.
In a 2-quart saucepan over medium-high heat, bring the cream and garlic to a boil about 5 minutes. As soon as cream has come to a vigorous boil, remove the pan from the heat and let steep for 5 to 10 minutes. Add lemon zest and season with 1/4 teaspoon salt and a few grinds of pepper. Stir well and remove the garlic cloves.
Transfer the greens to a cutting board and chop them coarsely. Put them in a large bowl and add the remaining 1/4-cup Parmigiano and goat cheese. Using your fingers, mix well. Spread the mixture in the prepared gratin dish. Pour on the cream and stir gently with a spoon to evenly distribute.
Top the gratin evenly with the panko crumbs. The liquid will reduce in the oven and top crumbs will get crisp. Bake the gratin until the crumbs are browned and the liquid has reduced below the level of panko crumbs, about 30 minutes. Serve warm.
Serves 4-6 as a side dish.
Information
Category

Side Dishes, Greens

Cuisine

North American