Creamy Shrimp Rolls Recipe
Fast & Easy Dinner: Creamy Shrimp Rolls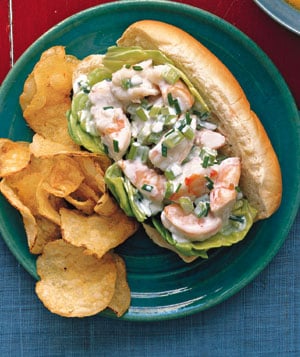 To many people, the classic lobster roll is the ultimate in Summer shore food. Unfortunately, having grown up on the West Coast, I'm not one of those people. While I've enjoyed a lobster roll before, it's not something I come across regularly. As a matter of fact, I rarely find lobster — and even if I did, my single-girl kitchen does not have a pot giant enough to cook a live lobster. Luckily, shrimp exists, and the same sort of creamy, cooling, decadent sandwich can be easily crafted in the comfort of my own home! Be sure to serve with potato chips, cold beer, and lots of napkins. To get the shrimp roll recipe I like to use, please keep reading.
Ingredients
1/4 cup mayonnaise
1 tablespoon fresh lemon juice
kosher salt and pepper
1 1/2 pounds cooked medium shrimp, cut in half crosswise
2 stalks celery, chopped
1/4 cup sliced chives (optional)
4 hot dog buns
1 small head butter lettuce, torn into pieces
1 5-ounce bag potato chips
Directions
In a medium bowl, whisk the mayonnaise, lemon juice, ½ teaspoon salt, and ¼ teaspoon pepper.
Fold in the shrimp, celery, and chives, if desired.
Line the buns with the lettuce and fill with the shrimp mixture. Serve with the potato chips.
Serves 4.
Information
Category

Main Dishes, Sandwiches

Cuisine

North American