Creamy White Mushroom Scrambled Egg Recipe
An Elegant Breakfast Idea From Chef Laurent Tourondel
When I was a new cook, I was afraid of eggs. After all, it's said that a true way to judge a chef is by his or her egg-making skills. Luckily, with a little research and a lot of practice, I've overcome my fear and now enjoy eggs — poached, boiled, fried, etc. — on a regular basis. However, I'm always on the lookout for new tips, and one I recently came across involves scrambled eggs. In his new cookbook, Fresh From the Market, Laurent Tourondel says that the key to perfectly fluffy scrambled eggs is to whisk "plenty of air into the eggs before cooking."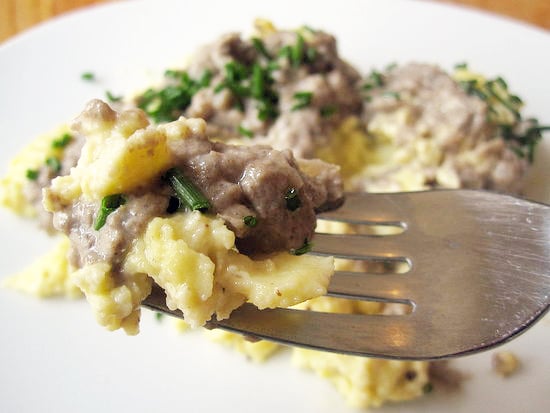 I followed his method for scrambled eggs with white mushrooms and was wonderfully pleased with the results. These aren't your grandma's scrambled eggs; they're light and delicate with a creamy texture and cheesy flavor. Instead of simply mixing in chunks of mushrooms, Tourondel makes a velvety puree of mushrooms that he spoons over the eggs. Served with generously buttered toast and a fresh-squeezed orange juice mimosa, it's a wildly luxurious breakfast. Want to give his recipe a try? Read more.
Ingredients
Mushrooms
2 pounds white mushrooms, cleaned
2 tablespoons unsalted butter
1/3 small white onion, finely chopped
1 teaspoon finely chopped garlic
1/2 cup heavy cream
Pinch of freshly grated nutmeg
Sea salt and freshly ground pepper
Scrambled eggs
12 large farm fresh eggs
2 tablespoons unsalted butter
1 cup grated New York sharp cheddar cheese
1 cup heavy cream
2 tablespoons chopped fresh chives
3 tablespoons walnut oil or truffle oil
Directions
Prepare the mushrooms: Combine the mushrooms and 1 cup of water in a food processor fitted with a metal blade and process until the mushrooms are pureed. Transfer the mushrooms to a strainer lined with cheesecloth and set over a bowl. Cover and refrigerate for at least 4 hours or overnight.
Squeeze any remaining water from the mushrooms. Transfer all the accumulated liquid to a small saucepan and simmer over medium heat until reduced to a glaze consistency, 5 minutes.
Melt the butter in a large saute pan over medium heat. Add the onion and garlic and saute until translucent, about 4 minutes. Add the heavy cream and nutmeg and bring to a boil, stirring often so the mushrooms don't burn. Season to taste with salt and pepper.
Scramble the eggs: Crack the eggs into a large bowl and whisk vigorously for 2 minutes until the whites and yolks are well blended and a lot of air has been incorporated into the eggs. Season with salt and pepper.
Melt the butter in a medium saute pan over medium heat. Pour the beaten eggs into the pan. Cook the eggs, whisking until they just begin to firm up, use a wooden spoon or spatula to fold the eggs away from the sides of the pan and into the middle. Continually fold the eggs away from the sides of the pan, taking care not to burn the underside of the eggs or allow them to stick to the bottom of the pan. Break up any large pieces of egg as you are folding, and cook just until any runny liquid has disappeared but the eggs are still moist, about 4 minutes.
To assemble and serve, remove the pan from the heat and stir in the cheese, heavy cream, and 1 to 2 tablespoons of the mushroom reduction and season to taste with salt and pepper.
Divide the scrambled eggs among 6 small bowls. Top with a spoonful of the sautéed mushrooms and sprinkle with the chives. Drizzle with the walnut oil or truffle oil and serve.
Serves 6.
Information
Category

Eggs, Breakfast/Brunch

Cuisine

North American