Creative Uses For Duck Fat
Andrew Zimmern Offers 3 Things to Do With Duck Fat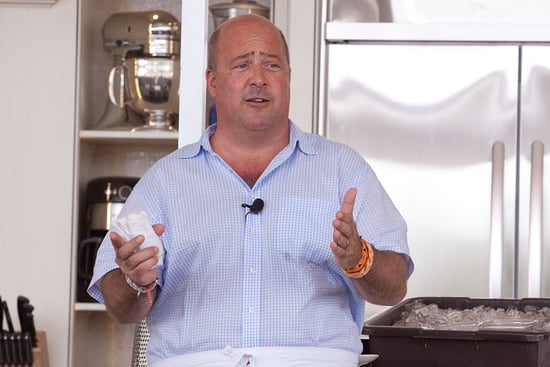 Considering how excited we were to see Andrew Zimmern at the Food & Wine Classic in Aspen, it's a good thing his cooking demo took place first thing Friday morning. In the Game On! seminar, the Bizarre Foods host (pictured here at Austin Food & Wine) showed the audience how to cook with game like antelope, elk, and venison, but he also prepared a Japanese yakitori-style duck breast over rice. Even more informative than his duck preparation was his discussion of duck fat, which he declared useful in just about everything. Here are a few things we discovered could be made better with duck fat:
A classic French farmhouse vinaigrette — Zimmern shared his favorite recipe for us, divulging that he stole it from Pierre Gagnaire in Paris. "I use cider vinegar, peanut or safflower oil, cream, and salt and pepper," he told us.
Potatoes — Duck fat fries are a thing, but if you can't be bothered to turn on the deep-fryer, then just toss roasted potatoes with seasonings and duck fat.
Steak — Here's one we really hadn't thought of: to make your next aged steak really over-the-top, drizzle melted duck fat on top of it. Talk about the ultimate indulgence!
We can't wait to try the farmhouse vinaigrette. What do you do with duck fat?