Crema Catalana Recipe
Try Crema Catalana, Crème Brulée's Seductively Smooth Spanish Cousin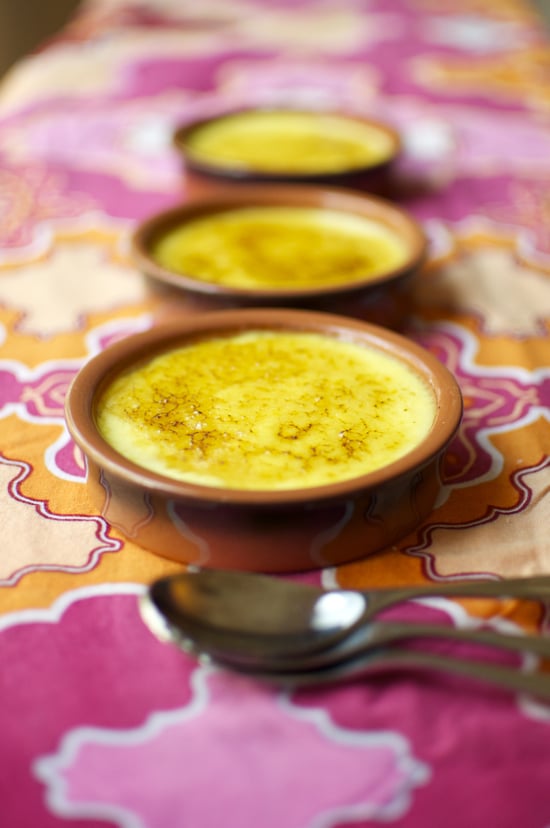 Ever since my trip to Barcelona, I love to travel back down memory lane by making the dessert I discovered on my travels, crema catalana. Many of us have had crème brulée, that famous French dessert that Amélie loved to crack with a spoon, and this Spanish caramelized custard will surely give you the same satisfaction. The Spanish recipe is lighter, since the custard is milk-based, unlike the French version that uses cream.
Traditionally, the Spanish add a bit of lemon zest to the custard, but grapefruit, lime, or orange zest would be a great addition. The recipe is not complicated, but pay close attention once you have added the eggs because too much heat can result in curdling.
To caramelize the top, you don't need a fancy torch; just stop by the local hardware store for a propane torch, which will surely save you a couple bucks. Or skip the torch altogether and just use the broiler in your oven.
Sweeten up your next meal and keep reading for the recipe.

Notes
This is the Spanish version of the French crème brulée. Feel free to use whatever citrus zest you have on hand, or do a mixture of several different varieties for even more flavor.
Ingredients
4 cups milk
2/3 cup superfine sugar
Finely grated zest from 1 lemon
8 egg yolks
1 1/2 - 2 tablespoons potato starch or cornstarch
Directions
Pour the milk into a pan, add 4 tablespoons of the sugar and the lemon zest, and bring just to a boil.
Meanwhile, beat the egg yolks with 2 tablespoons of the remaining sugar and the potato starch.
Gradually stir in the hot milk, then pour the custard into the pan. Lower the heat and cook, stirring constantly, for about 5 minutes, until thickened.
Strain into a serving dish or individual dishes and let cool, then chill in the refrigerator for at least 1 hour. Just before serving, sprinkle the remaining sugar on top and use a kitchen blowtorch to caramelize it. Or place the custards on a cookie sheet and place directly under the oven broiler, watching closely to ensure they don't burn. You might have to rotate the custards to evenly caramelize.
Information
Category

Other, Desserts

Cuisine

Spanish/Portuguese

Yield

Serves 6