Crisped-Prosciutto and Avocado Crostini Recipe
Killer App: Crisped Proscuitto and Avocado Crostini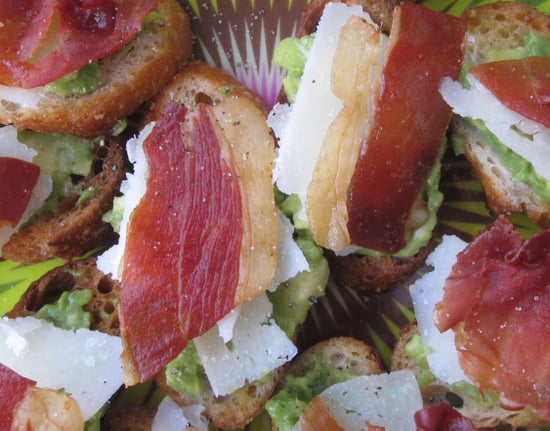 When I saw this recipe in a recent issue of Martha Stewart Living, I knew within two seconds of reading the title that I would be making it. I love crostini and I love avocado. The fact that it also involves crispy prosciutto and manchego cheese is just a plus. To make this delectable appetizer, you don't really need any cooking skills; you basically toast baguette slices, crisp the prosciutto, and layer it with mashed avocado and shaved cheese. Seriously, these crostini are incredibly easy, and the resulting bite is sure to be a hit with guests. It's also totally versatile: it would be equally delicious to start a Mexican, Spanish, or Italian menu. Learn the uncomplicated preparation after the jump.
Crisped-Prosciutto and Avocado Crostini
Ingredients
4 ounces thinly sliced prosciutto, torn into 3-inch pieces
Extra-virgin olive oil, for brushing
1 medium baguette, sliced into 1/4-inch-thick rounds
2 garlic cloves
2 firm, ripe Hass avocados, halved, pitted, and peeled
Coarse salt and freshly ground pepper
3 ounces manchego cheese, thinly sliced
Directions
Preheat oven to 400 degrees. Arrange prosciutto in a single layer on 2 rimmed baking sheets. Brush with oil, and bake, rotating halfway through, until crisp and deep golden brown, about 9 minutes; transfer to a plate.
Arrange baguette slices on a baking sheet. Brush generously with oil. Bake until light golden brown around edges, 8 to 9 minutes. Rub with garlic cloves.
Mash avocados with a fork. Season with salt and pepper.
Spread avocado on baguette slices. Top each with a slice of cheese and a piece of prosciutto. Season with pepper.
Makes about 30; Serves 8 to 10.
Information
Category

Appetizers, Crostini

Cuisine

North American