Crispy French Bread
Double Bake French Bread For Crunchier Crust
Bread bakers are constantly seeking out trade secrets to mimic professional French breads with crusty exteriors and soft, spongy innards. While nothing compares to state-of-the-art bread ovens, home bakers each have their tips for creating the "steaming" effect that contributes to the crystallization of the crust, whether it's baking the bread with a bowl of water-soaked stones or occasionally spritzing the loaves with water during bake time.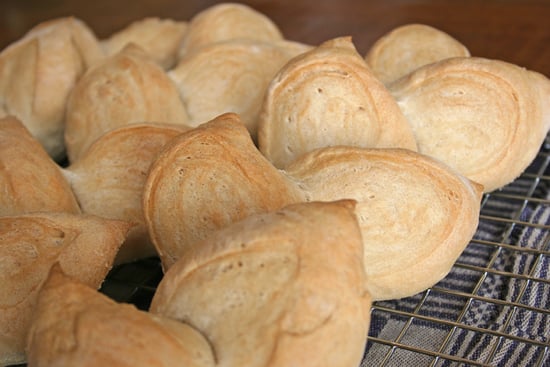 Here's a tip I recently stumbled upon while dining at Café de la Presse in San Francisco. My waitress let me in on a little secret: executive chef Patrick Albert is so serious about his bread that he ships in loaves from New York City each morning that are partially cooked and frozen. Once the loaves arrive in San Francisco, they're popped in the oven a second time to finish baking. The bread develops its awesomely crunchy exterior due to this process.
My hunch is that icy crystals form on the frozen dough and create a moist interior with a flaky, crisp crust. I utilize this method most when freezing extra loaves of bread to preserve for later. Here's my method: bake the bread according to the recipe's instructions, but pull out a few of the loaves before they start to turn golden (roughly three quarters of the way through cooking). Let the loaves cool to room temperature, then freeze them in an resealable bag. On a later date, preheat the oven to 400ºF, and bake the bread for 10 to 15 minutes or until the bread has a caramel brown exterior. What's your secret to baking the best bread?