Crispy Salty Roasted Baby Artichokes
Low-Fuss, High-Reward Roasted Baby Artichokes
The following excerpt was originally featured on Always Order Dessert and written by Alejandra Ramos, who is part of POPSUGAR Select Food.
I confess that as much as I love to eat artichokes, I've never really been entirely convinced that they're worth the fussy prep. I love to cook, but I'm admittedly kind of lazy in the kitchen, usually going for the easiest (but still from-scratch) option.
But the sudden burst of Spring weather and produce has gotten me excited to play around with veggies I typically ignore.
Quite literally, actually. This is what happened when I was putting away groceries the other day . . .
Totally normal day around here.
When I finished making food art, I decided to tackle those adorable baby artichokes first, peeling and roasting them until crispy with a simple dressing of fresh lemon juice (lots of it!), olive oil (the good stuff!), salt, and chili flakes.
Roasted at high heat until super crisp, then served with a lemony mayo for dipping, they're a super snacky treat to enjoy this Spring. Crunchy on the outside and tender on the inside.
Absolutely perfect!
And for those of you who, like me, are loath to tackle artichokes, you'll be pleased to know that the babies are a tiny bit less fussy. Simply peel off the outer leaves, cut through the ends (one quick swipe with the knife is enough), and then shave the stem down a bit.
No need to scrape out the fuzz, and the majority of the leaves are already tender enough that you can tackle the whole pile in about five or so minutes.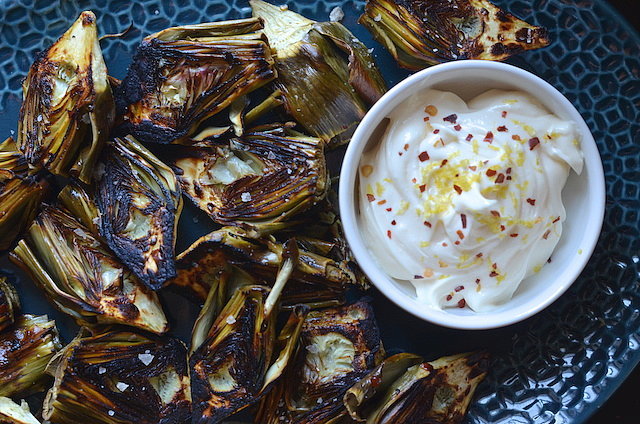 As I snacked my way through this salty, crunchy, spicy, tangy plate, I was like, "yeah, OK. They're worth it."
Loved this recipe? Here are three other vegetable recipes you might like:
Thanks so much for reading
Ingredients
8 baby artichokes
Extra-virgin olive oil
1 lemon, juiced
Kosher salt
Red pepper flakes
For the dip:
1/3 cup mayonnaise
1 tablespoon lemon juice
1 teaspoon fresh lemon zest
1 pinch red pepper flakes
Directions
Preheat oven to 400°F.
Remove outer leaves of artichokes and use a knife to trim off the sharp ends. Use a vegetable peeler to shave the stems. Cut lengthwise in half and place in a bowl.
Toss prepared artichokes with a generous amount of olive oil and lemon juice; season with kosher salt and red pepper to taste.
Place cut side down on a baking sheet and roast 20 minutes, or until crispy and slightly charred.
Meanwhile, whisk together dip ingredients. Serve dip with hot artichokes.
Information
Category

Vegetables, Appetizers

Cuisine

North American

Yield

Serves 2-4 as an appetizer