Croquembouche Information
We're Talking Croquembouches!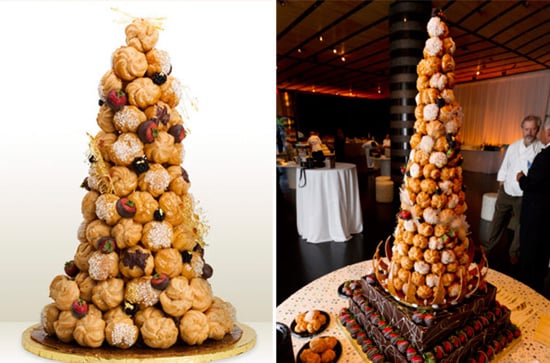 Lately, I've been seeing towers of cream puffs, or croquembouches, appearing all over the place, particularly in bridal magazines or on wedding blogs. The croquembouche is most certainly a delicious trend – we had one at our wedding and it was quite a hit! — but these magnificent sweet sculptures are more complicated than they may appear. To get an inside look at how these profiterole towers are made, I reached out to Gerhard and Mary Michler, the driving force behind Gerhard Michler Fine European Pastries and Creative International Pastries, in San Francisco.
Gerhard first started baking at age 17 in his native Austria, so it's safe to say he knows a bit about French pastry. Michler chalks the growing cream puff tower trend up to the fact that people seem to want to see new things these days, and that a croquembouche (also known as a pièce montée) is an exciting conversational piece. For more on this amazing French dessert sculpture, keep reading.
According to Gerhard, the sugar used to adhere the choux – the puffs of pastry – to one another is not only the most important element in the process, but also the most challenging. "Sugar cooked to the proper temperature gives the croquembouche the integrity to stand in a room for an extended period of time. If the temperature or air is humid, then we have to make a few adjustments to compensate for that," he says. "It takes time, patience, and avoiding getting burned by the sugar, at 300 degrees to 320 degrees Fahrenheit."
The choux may be filled with vanilla pastry cream, chocolate pastry cream, or pastry cream with alcohol, such as Grand Marnier or rum. But because the dough (pâte à choux) is sensitive to acidity, there's a limit to the flavors of pastry cream offered.
Taking a croquembouche apart is no simple task, either. Traditionally, the French walk up to the tower and pull cream puffs off with their hands, but in the States, people prefer to cut them off with a knife. Then again, there are also stories of croquembouches being severed by a sword or a saber! Though Gerhard maintains there are no secrets to the croquembouche process (at least none he's willing to share!), he does offer one important piece of wisdom.
"The more you practice at making a croquembouche," he advises, "the better you get." I suppose that means we all better get to baking. Have you ever partaken in the eating — or making — of a croquembouche?
Photos courtesy Gerhard Michler