Crunchy Granola Bars Recipe
Recipe Hack: Nature Valley Oats 'n Honey Granola Bars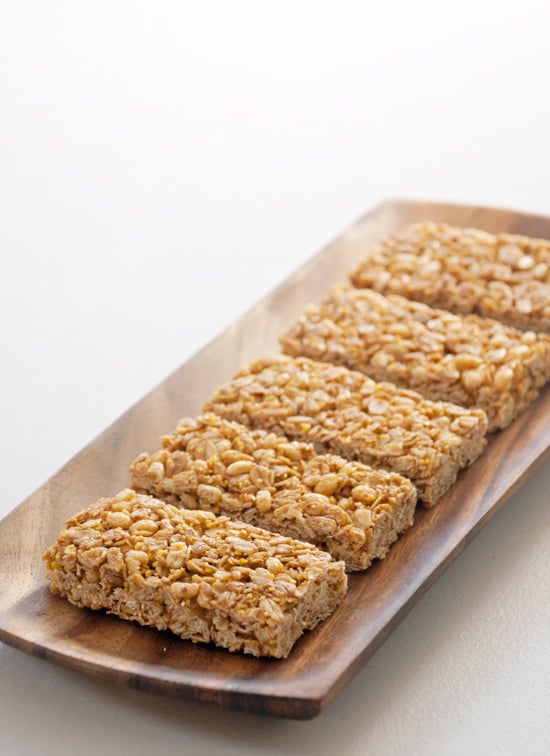 Throughout middle and high school, I practically subsisted on Nature Valley's crisp and crunchy Oats 'n Honey granola bars. To this day, a mere glimpse of the bold green wrapper gets my stomach grumbling. So when I stumbled upon a recipe hack for the snacktime staple, I knew I had to try it for myself.
My first attempt turned out a batch that, while enticing, wasn't quite right; my roommates happily scarfed them down, but to my nostalgic palate, they were slightly too soft, not quite salty enough, and tasted a little raw. Thankfully, with a few tweaks — notably, toasting the oats and swapping out half the honey for brown sugar for a deeper flavor and a crisper, toastier texture — they're everything my teenage self could've wished for. Even better, they're slightly less sweet, leaving my slightly more sophisticated mid-20s persona pleased as punch as well.
Get the recipe, and start snacking.
Ingredients
1 1/2 cups (5 3/4 ounces) rolled oats
2 tablespoons neutral oil, such as canola or grapeseed
Heaping 1/4 teaspoon kosher salt
2 1/2 tablespoons honey
2 1/2 tablespoons dark brown sugar
3/4 teaspoon vanilla extract
1/2 cup (3/4 ounce) crispy rice cereal
3 tablespoons (1 3/8 ounces) cornmeal
1/4 teaspoon baking soda
Directions
Preheat the oven to 375°F. Line a half-sheet pan with parchment paper or a Silpat. Line an 8-by-8-inch square pan with parchment paper, leaving a few inches of extra parchment on each side to form a sling.
Mix together the oats, oil, and salt in a large mixing bowl. Spread the oat mixture out on the prepped half-sheet pan and toast, stirring halfway through, for about 15-20 minutes, or until the oats are a light golden brown.
While the oats toast, add the honey and brown sugar to a small saucepan set over medium heat and cook, stirring frequently, for about five minutes or until the sugar has dissolved completely. Add the vanilla.
Add the cereal, cornmeal, baking soda, and toasted oat mixture to the mixing bowl used earlier. Mix gently but thoroughly, and then add the honey and brown sugar syrup and mix until a cohesive, slightly sticky mass forms.
Turn the oats mixture out into the prepped square pan, spread it out as evenly as possible, and then use a lightly greased offset spatula or flat-bottomed measuring cup to tamp down the oat mixture until very firmly packed.
Reduce the oven temperature to 300°F and cook for 38-45 minutes, or until the bars are a deep golden brown.
Allow to cool for 10 minutes in the pan (don't wait longer or they will shatter when cut into bars), and then use the sling to carefully remove the granola bars slab to a cutting board. Trim away the rounded edges of the granola bar slab with a very sharp chef's knife, then cut the bars into eight rectangular bars. Allow to cool completely, and then enjoy or store in an airtight container.
Makes eight granola bars.
Information
Category

Other, Snacks

Cuisine

North American