Crustless Leek, Greens, and Herb Quiche Recipe
Fast & Easy Dinner: Crustless Leek, Greens, and Herb Quiche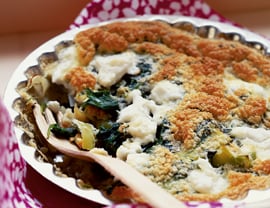 While I love eating quiche, my irrational fear of dough means I categorize quiche as a dish I cook on the weekends only. It's not fast for dough to chill in the fridge for 30 minutes and it's certainly not easy to roll the dough into a perfect circle. However, when I came across this recipe for a crustless quiche, I realized it's perfect for a weeknight because there's no dough to worry about. It has all the eggy wonderfulness of a quiche without the hassle of the crust: genius!
Oh, and the best thing is that you can use this recipe as a guide. Throw in your favorite vegetables, herbs, and cheese. Learn the simple technique after the jump.
Ingredients
2 Tbs. fine dry breadcrumbs
2 small leeks, white and light green parts halved and sliced 1/2-inch thick
2 cups chopped Swiss chard, kale, collard greens, or mustard greens
4 egg whites
3 whole eggs, beaten
1/4 cup low-fat milk
1/8 tsp. nutmeg
1 Tbs. chopped fresh tarragon
2 oz. soft goat cheese
Directions
Preheat oven to 425°F. Coat bottom and sides of 9-inch glass pie dish with olive oil cooking spray. Scatter breadcrumbs over bottom of pie dish.
Bring 4 cups salted water to a boil in large pot. Add leeks; boil 3 minutes. Remove pot from heat, add Swiss chard, and let stand 30 to 45 seconds, or until greens are wilted. Drain, rinse with cold water, and drain again, squeezing out excess water with hands. Set aside.
Whisk egg whites until frothy. Whisk in eggs. Whisk in milk and nutmeg; season with salt and pepper, if desired. Whisk in tarragon and basil.
Scatter leeks and Swiss chard over breadcrumbs in prepared pie dish. Dot cheese on top. Pour egg mixture into pie pan.
Bake 20 to 25 minutes, until golden brown on top. Cool 5 minutes before slicing and serving.
Serves 4.
Information
Category

Main Dishes, Eggs

Cuisine

North American