During the hot Summer, I hate to be indoors. Browsing through Everyday Food: Great Food Fast, I found the perfect recipe to escape my toasty kitchen, Cubano Quesadillas. The recipe requires a minimum amount of preparation and everything is cooked on the grill! Traditionally, Cubano sandwiches consist of glazed ham, roasted pork, Swiss cheese, spicy mustard, and dill pickles served on Cuban bread. This recipe combines these delicious ingredients and contrasting flavors. They're topped with sweet, grilled red onions and sandwiched between two crisp tortillas. To learn how to make these fast and easy quesadillas,
.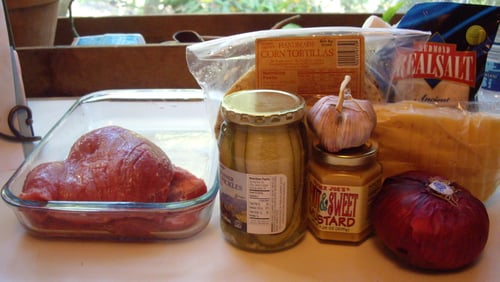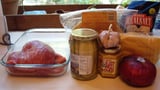 Ingredients
1 clove of garlic, unpeeled
1 pork tenderloin
1 large red onion, sliced into 1/2 inch thick slices
4 tablespoons spicy brown mustard
4 flour or 8 corn tortillas
6 ounces sliced baked ham
4 dill pickles, thinly sliced
8 ounces of Swiss cheese, grated or sliced
1 tablespoon Vegetable oil, plus more for BBQ grates
Directions
Place the unpeeled garlic clove on a cutting board and smash with the flat side of a knife blade. Peel off the papery skin and discard; trim away the root end. Coarsely chop the garlic into even pieces. Gather the chopped garlic in a pile and sprinkle generously with coarse salt. Place the flat side of the knife blade on the top; press firmly, pulling the knife towards you. Repeat until paste forms. Combine garlic salt paste with oil and pepper in a small bowl. Rub all over the pork.

Heat the grill to high and oil grates. Place the pork on the hottest part of grill, cover. Cook, turning occasionally until an instant-read thermometer inserted in the thickest part registers 155 Fahrenheit degree. Let the pork rest for 5 minutes.

Meanwhile, place the onions slices on the cooler part of the grill, cover. Cook, turning once, until soft and beginning to brown, about 10 minutes. Reduce the grill to medium low.

Spread 1 tablespoon of mustard on each tortilla. Dividing evenly, layer half of each tortilla with ham, pork, onions, pickles, and cheese. Fold the flour tortillas in half or place another corn tortilla on top; press to close.

Lightly oil the grates again. Place the quesadillas on the grill; cover. Cook, turning once, until browned in spots and the cheese has melted, about 4 minutes. Cut into wedges and serve with additional mustard.
Serves 4.
Information
Category

Main Dishes, BBQ

Cuisine

Other