Cucumber Cocktail Recipe by Top Chef's Jen Biesty
Happy Hour: The Fiji Facial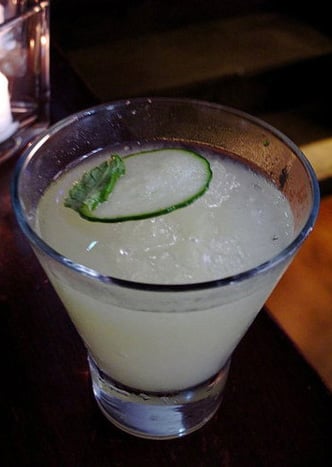 Over the weekend, the second annual SF Chefs event took place, and it wasn't just about the food — beer, wine, and cocktails were in full force, too. Case in point: MIX with SF Top Chefs, a happy hour featuring a cocktail shake-off between San Francisco's most memorable Top Chef alums.
Five contenders — Ryan Scott, Jen Biesty, Mattin Nobila, Erik Hopfinger, and Laurine Wickett — made original cocktail recipes that incorporated the use of Fiji Water, a sponsor for the event, and I had the pleasure of guest judging the competition. In the end, Top Chef: Chicago's Jen Biesty came out on top with a well-balanced cucumber cocktail.
Jen Biesty named her cocktail The Fiji Facial after being inspired by a famous San Francisco spa. Her zen-like cocktail incorporates health-minded ingredients like ginger juice and organic cane sugar. To score the refreshing recipe — and check out photos from the event — read on.
Ingredients
3 mint leaves, plus one extra for garnish
1/2 tablespoon organic cane sugar
1-1/2 ounces cucumber juice (to make juice, purée cucumbers, then strain through a fine chinois)
1-1/2 ounces Square One cucumber vodka
1/2 ounce Cointreau
1/2 ounce lime juice
1/4 ounce ginger juice
Lime wedge, for rim
Coarse salt, for rim
Fiji water shaved ice, for shaking and serving
1 thinly sliced cucumber wheel, for garnish
Directions
In a shaker, muddle three mint leaves with the sugar.
Add next five ingredients into shaker with shaved ice.
Moisten the outer rim of a lowball glass with the lime wedge and dip in a shallow bowl of coarse salt to rim glass.
Shake vigorously and strain over more shaved ice. Garnish with cucumber wheel and mint leaf.
Makes 1 drink.
Information
Category

Drinks, Cocktails

Cuisine

North American