Curtis Stone on The Chew
Curtis Stone Has Perfected the Recipe For Sexiness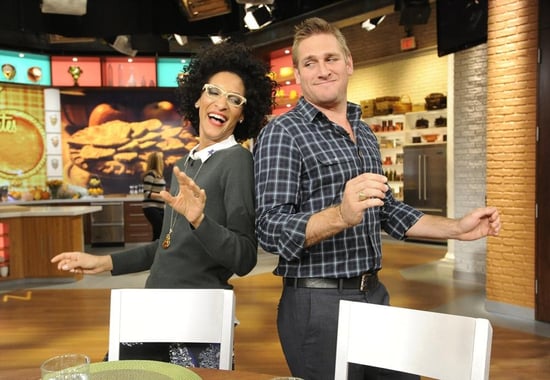 Take one good look at chef Curtis Stone, and it's no joke: the man has blessed genes. But wait, there's so much more. First of all, he's Australian, so even if he recited the recipe for mud pie, his accent would make it sound like the grandest pastry in the world. Lucky for us, he's signed on to be a guest-cohost ABC's The Chew, so we'll have even more opportunities to see him on TV, other than Bravo's Top Chef Masters. Curtis — who is the face of Netflix's "steaming while streaming" kitchen campaign — has some serious culinary chops too. He's prepping to open Maude, his newest restaurant in Los Angeles, which has hired Michelin-experienced chefs only. Beyond his baby blues and professional accolades, he married longtime girlfriend Lindsay Price over the Summer and is a doting dad to the couple's 2-year-old son. Have you completely melted yet? Keep reading to become a puddle.
POPSUGAR: How did you get involved with The Chew?
Curtis Stone: They asked me to come on and promote a cookbook. I went on there and had so much fun with the guys. I really enjoyed their company and different perspectives on food. We just sort of spoke a little more and more and before you know it, here I am as one of the regular cohosts.
PS: What it's like behind the scenes?
CS: No one takes themselves too seriously. Clinton's hilarious. He's obviously got a hard group to try and convince that they should be doing some crafts once in awhile. Michael and I are as bad as each other at doing it. Daphne's an absolute sweetheart. Carla is amazing as well. They're all so fun and that really counts for on screen as well as behind the scenes.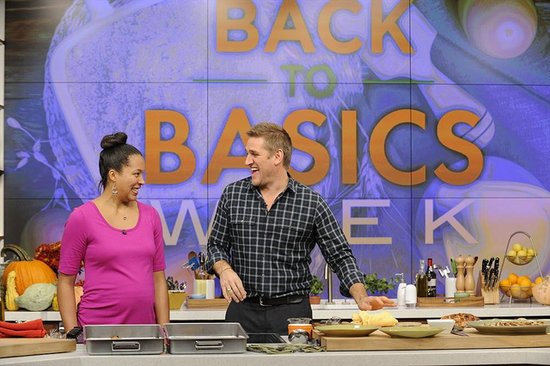 PS: What has been your favorite moment on The Chew thus far?
CS: Michael Symon makes such a fool of himself in so many different ways, and I love it. It's actually hard to pinpoint which one is my absolute favorite . . . You get to taste all sorts of delicious stuff. I remember once they asked if one of the audience members wanted to come down and cook with me. Getting to cook with this woman and seeing how excited she got and how much she loved the show — that was a pretty big high for me.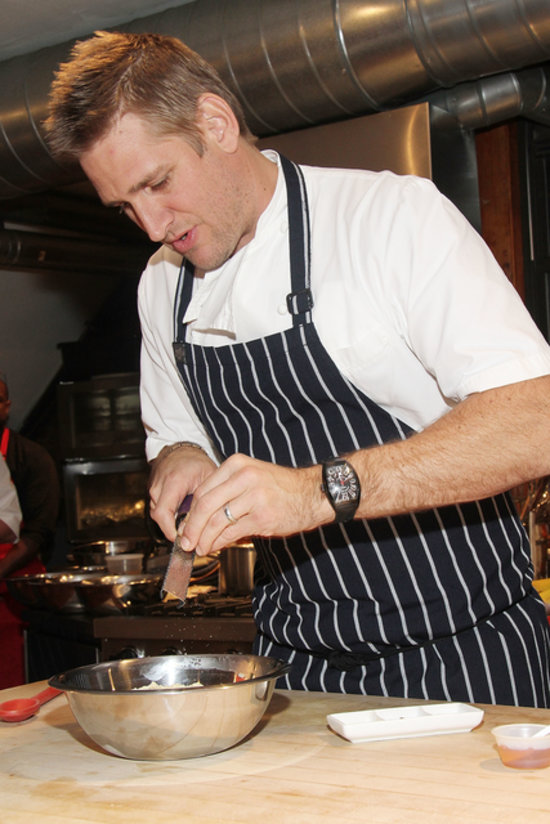 PS: Your upcoming restaurant in LA, Maude, has been a long time in the making. When can we expect it to open?
CS: We're probably only a few weeks away from being finished. We're just in that terminating process with the city. You have to get all of your inspections done and all of your paperwork in place before you can swing the doors open. But we've been developing the recipes and menus.
PS: What type of restaurant are you going for?
CS: I've been blown away with the quality of fruit and vegetables in California. I want this restaurant to be a celebration of that. Each month, we'll choose a different ingredient to focus on. We'll cook eight or 10 courses that feature the ingredient, showcased in different ways. We're going to kick off in January with citrus. There's so many different things to do with 20 or so varieties of citrus that are available to this area in SoCal. You can turn it into an oil; you can juice it; you can segment it; you can use the pit. You can preserve it; you can pickle it; and you can candy it. To me, it's a chef's dream to cook in a tiny restaurant. We're going to have a nice little brigade of talented guys who also follow my passion. We're only going to cook for 25 people at any one time.
PS: What are you working on now?
CS: I think the restaurant's going to keep me pretty focused. I'm in the middle of writing a book at the moment. I'm lucky enough to be in this development stage. That'll be coming either later in 2014 or even at the start of 2015. So I'll leave some time for the book and some for the restaurant. Truthfully, I want to spend as much time as I can in the restaurant. The reason for doing that is so that I'm a little more grounded here in LA and I can pull back from some of the travel.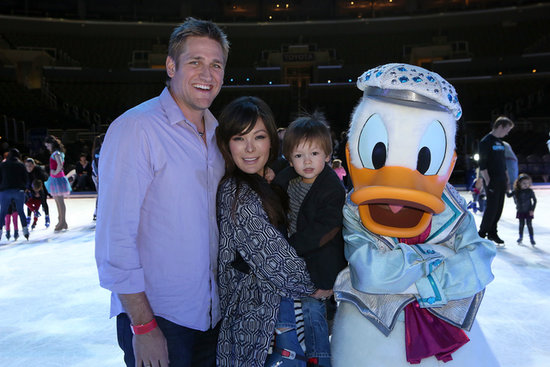 PS: What are your Christmas plans?
CS: The only tradition that I have is that it's different every year. I cooked roast goose when I lived in England. I cooked roast pork when I lived in Australia. I do roast beef and ham now that I live in the States. One of the beauties of Christmastime or holiday festivities is embracing new traditions. [I have] a pretty unconventional family. I'm an Aussie. My wife's American. Her mum's Korean. Her Dad's true-blue American. We've got so many different influences in our house. It's not uncommon for us to have a bit of kimchi on our table next to roast turkey. We have a 2-year-old son. This is really his first Christmas where he understands what's going on and will open gifts from Santa Claus.
PS: Cooking the Christmas feast can be so stressful. Can you offer any tips to make an easier or more enjoyable process?
CS: The single most important thing you need when cooking Christmas dinner is a plan. If you say to yourself, "Okay, my plan is to serve dinner at 3 p.m." All right, work back and say, "What do you have to do?" Make a list of things you want to serve. You've got green beans, you've got mash potatoes, and all those things. "The green beans will take me 20 minutes. At 2:40 I'm going to put the green beans in." So you write 2:40 next to the green beans. And then, "The potatoes are going to make me one hour. At 2 o'clock, I'm going to put the potatoes on." With that plan you look at all of the stuff you have to do and you're like, "Okay, I think I've got plenty of time and a good plan. I might be doing too much." Then you pull someone and say, "Hey listen, can you do the dessert? Or can you bring all of the wines? Or can you take something off my plate?" It actually makes life a little simpler for you.