Dairy-Free, Vegan Recipe For Cheese Alternative Sauce
Cheezy Sauce
This story was written by member girlA and comes from The Dairy Free Diva Recipe Exchange group in the YumSugar Community.
Here is yet another "cheese" sauce — this one quite impressive. The ingredient list is relatively small and the flavor is not soy sauce-y like most ('cause there isn't any in this recipe)! It's quite simple to make and can be used on nachos, pastas, baked potatoes and as a dip for veggies. I think this sauce tastes closest to real cheese and I'll certainly try it on other food. Like most "cheese" sauces, I recommend not microwaving any leftovers, but rather reheating it on the stove. Also, it does help to have the ingredients measured out and ready to go before starting…and of course, I went to my go-to ingredient for added creaminess: Tofutti sour cream!
To get her recipe, keep reading.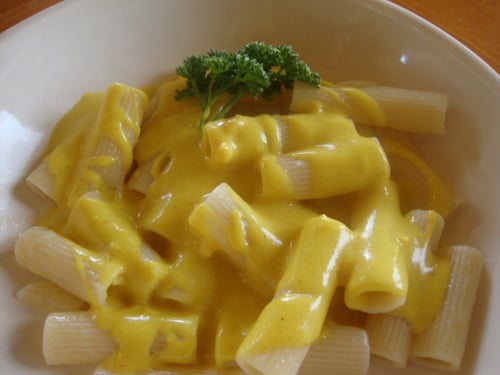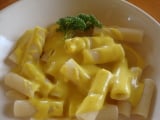 Ingredients
2 C vegetable broth
1/4 C all-purpose flour
1 Tbs olive oil
3 cloves garlic, minced
Pinch of dried thyme (crumbled in your fingers)
1/4 tsp salt
Several pinches of freshly ground black pepper (I did 4 pinches)
1/8 tsp turmeric
3/4 C nutritional yeast
1 Tbs lemon juice
1 tsp prepared yellow mustard
Optional: 1/4 C Tofutti sour cream
Optional: Vegan Parmesan cheese
Directions
Combine the broth and flour in a measuring cup and whisk until dissolved. Preheat a small sauce pan over medium-low heat. Place the oil and garlic in the pan and gently cook for about 2 mins, stirring often and being careful not to burn the garlic. Add the thyme, salt, and pepper, and cook for about 15 seconds. Add the broth, turmeric, and nutritional yeast, and raise the heat to medium. Use a whisk to stir constantly. The mixture should start bubbling and thickening in about 3-5 mins; if it doesn't, turn the heat a bit higher.
Once the mixture is bubbling and thickening, stir and cook for about 2 more mins. Add the lemon juice and mustard. The mixture should resemble a thick, melty cheese. Taste for salt (you may need more depending on how salty the vegetable broth is), turn off the heat, cover the pan to keep it warm until ready to use. (If using the sour cream, add it now). The top might thicken a bit while it sits, but you can stir it and it will be fine. Serve warm and enjoy!
Information
Category

Other, Condiments/Sauces

Cuisine

North American
Have you come across — or come up with your own! — delicious dairy-free creations lately? If so, be sure to post them to The Dairy Free Diva Recipe Exchange. It's easy to upload your photos and a description of the experience, and it could be featured on YumSugar! If you're new to the YumSugar Community, here's a detailed guide to posting to groups.