Damaris Phillips Interview
Move Over, Paula Deen: There's a New Sassy Southern Chef to Watch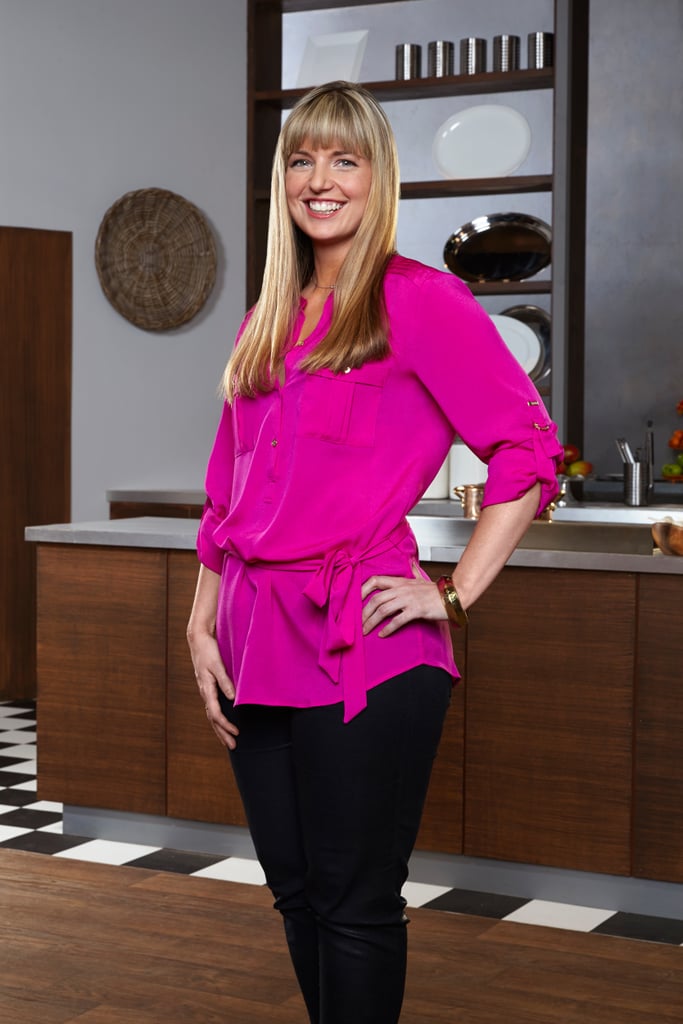 It didn't take too long for a new Southern gal to enter the Food Network scene. The sassy, classy Damaris Phillips just won the ninth season of Food Network Star, an obvious sign that fans expressed their need for Southern comfort. This 32-year-old culinary school instructor from Kentucky has already started the preproduction for her new show Eat, Date, Love, but she took some time out of her schedule to discuss why she deserved the title and what recipe she hopes to be remembered for.
POPSUGAR: Why do you think fans voted for you to be the next Food Network star?
Damaris Phillips: I'd like to hope that people see me as somebody they can relate to and that I remind them of either their daughter, sister, or best friend. I think I seem pretty regular. People are telling me all the time, "You remind me of my best friend." I think that's a great thing. It definitely worked in my favor.
PS: What did you have that the other finalists didn't?
DP: That's such a hard question! I am lucky that I'm really, really in love with the food that I make. I am making food that reminds me of my family. There is no way that I can cook without being tied to this food. I didn't have to think about my point of view or if what I was making made sense, because it's just part of who I am.
PS: How would you describe your take on Southern cooking?
DP: I am always trying to create traditional Southern dishes but update them by using flavor profiles you wouldn't normally expect, like using Indian or Ethiopian spices. I always try to make things a little more healthful. I educate people on what Southern food really looks like and how large our harvests are, the abundance of produce, and why there is so much canning and pickling.
PS: When we can expect to see more of you on Eat, Date, Love?
DP: Hopefully in the Fall. We have just started the conversation, and it is just so exciting. We really just filmed the finale [of Food Network Star]. We don't have anything set in stone yet; we are in the very beginning processes of getting the show started. I'm glad, though, because I swear, if it were any faster, I think my head would explode!
PS: What was the most difficult part of this journey?
DP: I think it was really hard to believe in myself, that I could win or that I should win. It's really hard to look at yourself, your faults and flaws, and be OK with them and push through them.
PS: One of your biggest struggles on Food Network Star was have the perfect mix of zaniness and Southern charm. How did you find the right balance?
DP: I quit trying to think of it as finding the balance between zany and serious and tried to start focusing on being the teacher that I am. I am a teacher, and I am also funny and I am also kind of quirky. Those things are always going to come through. If I redirect my focus toward being the best teacher I can be, the entertaining elements and the funny elements will follow.
PS: You're a teacher, but you also learned a lot on the show. What was the best lesson you received from one of the mentors?
DP: Alton Brown looked at me at one point and said, "There are tools that you have that will be useful to you. Nerves are not one of those anymore. You have no use for nerves. Leave those at the door, and come in here and teach us." That was the "ah-ha" moment for me.
PS: What's it like behind the scenes when the cameras are off?
DP: You know, a lot of goofing off. It really is like Summer camp. It's tense sometimes, like going into elimination was always stressful. The rest of the time you're just hanging out with people who love the same thing that you love. There is automatically a bond there. And then you're just shucking and jiving with each other, laughing and building friendships.
PS: What is a recipe you made on the show that you think every home cook should keep in their recipe box?
DP: Cabbage and cauliflower with mango pickle. Anyone could make that and should make that. It can be made using any vegetables and an Indian condiment like mango pickle. It's simple, but I think it's the best showcase of what I'm hoping to do with my modern Southern view.
PS: If you were to always be remembered for one recipe, what would it be?
DP: I love, really love, making butter beans and cornbread. It was my dad's favorite, and I would like to be remembered for making food that people loved. Since that was his favorite, it would be butter beans and cornbread since I miss him so bad sometimes. I make it just to feel close to him.
Source:
Food Network
(©2013, Television Food Network, G.P. All Rights Reserved)