Dark Chocolate and Red Velvet Make a Scrumptious Sandwich
I celebrated the season premiere of True Blood this weekend with a southern classic: red velvet cake. Rather than make a layered cake, I opted to try a cookie variation. Traditionally the cake is iced with a vanilla cream cheese frosting; however, I was in the mood for something more decadent and concocted a dark chocolate cream cheese frosting. In addition to the sinful filling, to add a little crunch I sprinkled each cookie sandwich with roasted hazelnuts. The cookies are simple to make, but take into account that they spread, so avoid overcrowding the baking sheet. Don't feel limited to cream cheese frosting filling; a variety of ice creams would be a delectable Summer treat. I definitely want to make these again to celebrate the Fourth of July — the color is perfect! Whether you make them now or later, you'll need the recipe. Get it when you
.
Red Velvet Cookies With Dark Chocolate Cream Cheese Frosting and Roasted Hazelnuts
Adapted from Paula Deen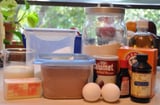 Ingredients
Cookies
1 1/3 cups all-purpose flour
2 tablespoons cocoa powder
1 teaspoon baking powder
1/4 teaspoon baking soda
1/2 teaspoon salt
1/4 cup butter, room temperature
1 cup sugar
2 eggs
2 tablespoons buttermilk
2 teaspoons apple cider vinegar
1 teaspoon vanilla extract
1 tablespoon red food coloring
Dark Chocolate Cream Cheese Frosting
16 ounces cream cheese, at room temperature
2 cups roughly chopped dark chocolate (72% cocoa)
2 squares of baking chocolate
1 cup powdered sugar
1 teaspoon vanilla
1 cup roasted hazelnuts, roughly chopped
Directions
Preheat oven to 375 degrees F.
Mix together flour, cocoa powder, baking powder, baking soda and salt in a small bowl.
Cream together the butter and sugar until light and fluffy, about 3 minutes. Add the eggs 1 at a time.
Then beat in the buttermilk, vinegar, vanilla and red food coloring.
Once combined, add the dry ingredients to wet. Mix until thoroughly combined.
Onto a parchment lined sheet tray, drop batter using an ice cream scoop, forming 2-inch round circles.
Bake for 10 minutes, until baked through. Cookies should be cake-like and light. Allow to cool for a few minutes on the baking sheet, then remove to a wire rack to cool completely.
Make the dark chocolate cream cheese frosting: Melt all of the chocolate in the microwave roughly 2-3 minutes stirring occasionally.
Let chocolate cool. Add cream cheese, vanilla and powdered sugar and beat on medium low until well combined.
Spread frosting evenly on a cookie. Top with hazelnuts and another cookie.
Makes 12-15 cookies.
Information
Category

Desserts, Cookies