David Chang at the 2010 Food and Wine Classic in Aspen, CO
David Chang Does Sous Vide, His Way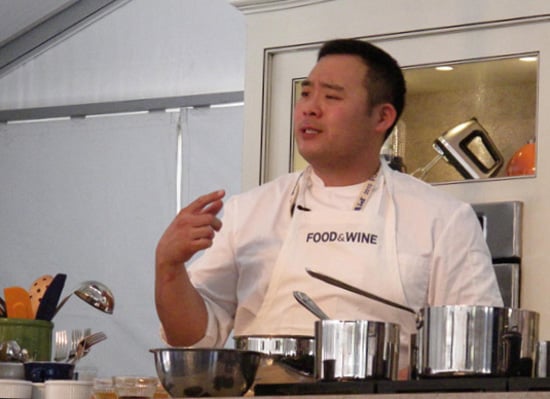 In my time spent with Momofuku's David Chang, I've learned that there's never a dull moment with the opinionated chef. When I found out he was demoing in Aspen, I knew I'd be there.
Chang, who was a Best New Chef himself at the 2006 Classic, showed his version of vacuum cooking. "Sous vide cooking will be more popular in the next 10 to 20 years," he declared. Although he recommended a water immersion circulator for home cooks ("they didn't pay me to say this, but PolyScience is the best one out there"), he demonstrated a similar, more affordable technique that he refers to as "sandbagging" or "ghetto sous vide."
He made fun of his jury-rigged concept, but I think it was classic avant-garde David Changian. With a large vat of water, the chef used an instant-read digital thermometer to gauge the temperature at about 140ºF, or 60ºC. Then he inserted a vacuum-sealed piece of meat for about 45 minutes, until the protein was just barely, but uniformly, cooked through. For more about what the Momofuku maestro had to say, read on.


Try sous vide on shaved ribeye, skirt steak, hanger steak, prime rib, or spare ribs. Don't sous vide poultry. It's hard to get the moisture content right and you won't be able to enjoy a crispy skin.
Use juices in marinades. David's mother started using apple juice in marinades in place of sugar when his dad became diabetic. Apple juice contains malic acid, when helps to tenderize protein, and sugar content in a marinade will help to produce nice char marks on the grill.
Always braise on the bone; thighs and legs will be superior to dry cuts like breasts and tenderloin. "I haven't cooked with tenderloin in 10 years," he admitted.
David prefers usukuchi, a light soy sauce, to the darker, heavier varieties. His favorite brand is Yamasa.
David loves vegetables, too: "Meat wasn't abundant when my parents were growing up in Korea," he explained. "My favorite vegetable to cook with and eat right now is iceberg lettuce!" The high water content in lettuce's leaves ensure even cooked lettuce has crunch.
I don't have $1,800 to spend on a sous vide machine, so I'm looking forward to testing out his ghetto sandbagging technique. Have you ever tried something similar at home?