David Kinch at the 2010 Chefs' Holidays at The Ahwahnee Hotel in Yosemite
Manresa's David Kinch Wants You to Season Properly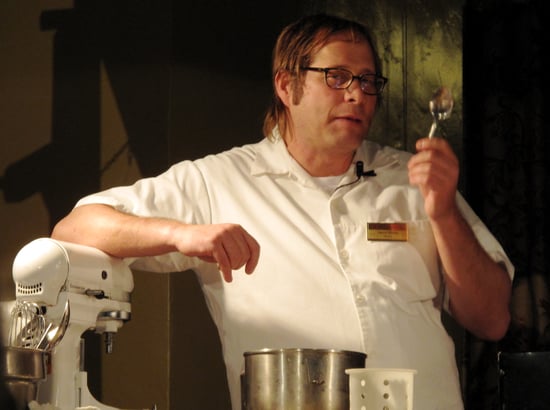 This week, I attended the first session of the 25th annual Chefs' Holidays, a monthlong culinary event that takes place at The Ahwahnee Hotel in Yosemite, CA, each Winter. The celebrity chef-studded affair, which included kitchen tours, cooking lessons, and a blowout gala dinner, proved to be as educational as it was recreational.
One of the highlights was a cooking demonstration led by headliner David Kinch. The James Beard-nominated chef (who defeated Bobby Flay on Iron Chef America!) is the brainchild behind Manresa, the Los Gatos, CA-based restaurant at the forefront of California cuisine. But despite his haute background, Kinch focused much of his lesson on one simple principle: season properly. Learn the chef's rules for seasoning when you read more.


Always be conscious about seasoning when you're cooking. "Food is salted mindlessly; professional chefs don't always put a lot of thought into it," Kinch said. "You shouldn't taste the salt in your food — it should just make everything round."
Because salt develops complex flavors as it's being cooked, salt in very little quantities, and salt often.
Never add pepper at the beginning of a recipe. Pepper will burn quickly and add an acrid flavor to a dish.
Since conventional table salt is three times saltier than its kosher counterpart, David prefers to cook with the more delicately-flavored kosher salt.
Know the properties of different kinds of salt. For example, while kosher salt dissolves instantly, fleur de sel maintains a nice crunch, making it ideal as a finishing salt.
What steps do you take to ensure that your food is properly salted?