Definition of Cocoa Nibs or Cacao Nibs
Know Your Ingredients: Cacao Nibs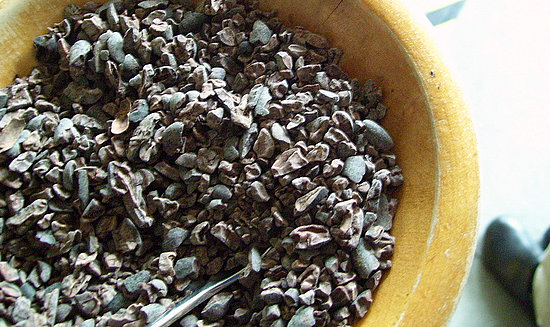 If you have a penchant for all things chocolate, you may have noticed a recent trend with cacao nibs popping up in desserts and other dishes. While they're a crucial step in the chocolate-making process, cacao nibs (sometimes called cocoa nibs) are now being sold on their own as a stand-alone item in specialty markets.
Once cacao beans are picked and roasted, they're separated from their husks, then broken into pieces. These are cocoa nibs. To make chocolate, the pieces are ground into a thick paste called chocolate liquor, which is combined with cocoa butter and sugar. But these bits of bean can also be used to add a subtle chocolate flavor and soft crunch to baked goods and savory dishes.
While cocoa nibs can be eaten as a snack, I particularly enjoy them as a topping on ice cream or studded inside chocolate bars. I've heard they're great mixed into cookies as well. How have you had them?
Source: Flickr User La.Catholique