Definition of Piperade
Definition: Pipérade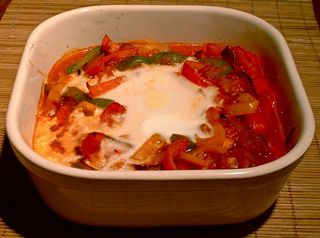 Perhaps the pied piper used his peck of pickled peppers to make pipérade.
Pipérade (pronounced "peep-ay-rod") is native to the Basque region of France; it's a sauté of tomatoes and sweet green bell peppers in olive oil along with other optional ingredients such as spicy paprika, onions, garlic, bacon or ham, and eggs.
The specialty can be served as either a side dish or a main dish or as a condiment to top mild fish, omelets, basic frittatas, or braised chicken. Have you ever made pipérade?
Source: Flickr User FotoosVanRobin