Definition of Satay
Definition: Satay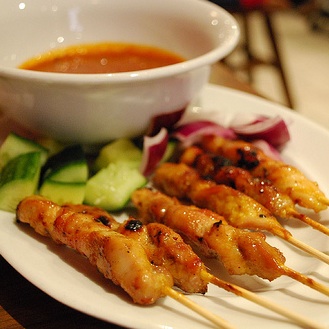 They may sound similar, but don't confuse satay with sauté.
Satay is a Southeast Asian dish of meat that's been marinated and seasoned (often with turmeric), skewered, grilled over a fire, and served with a sauce for dipping. The delicacy is extremely popular in Indonesia, as well as neighboring countries Malaysia, Singapore, and Thailand, where it's served everywhere from street carts to high-end restaurants. Variations may contain every type of meat from chicken and beef to turtle and mutton, as well as offal.
Satay can also come with a wide range of accompanying dipping sauces, including peanut gravy, soy-based condiments, pineapple sauce, and cucumber relish. Have you ever made satay?
Source: Flickr User avlxyz