Delfina's New Chef Is Dylan Montano
Star Chef Craig Stoll on Expansion, Favorite Eateries, and the State of Dining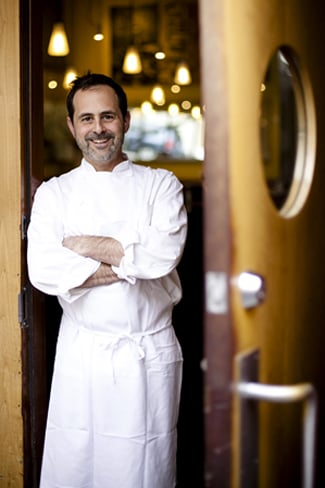 It's hard to keep a restaurant that's been open over a decade perennially packed, but Craig Stoll makes it look easy. The chef-owner's flagship restaurant, Delfina, has been open for 13 years, yet remains one of San Francisco's top dining destinations. Stoll and his wife, Annie, have a new Roman restaurant, Locanda, as well as two locations of the absurdly popular Pizzeria Delfina, which was named one of the 25 best pizzas in America.
I talked to the James Beard Award winner about what keeps his restaurants interesting, upcoming projects, and the controversial state of fine dining today.
YumSugar: Delfina's been open for 13 years. How do you continue to move forward?
Craig Stoll: It's just hard work. What we need right now, in order for our restaurants to continue to thrive and grow, is talent. We have a brand-new chef coming in here; you're the first to know. Matt Gandin, our chef de cuisine who's been with us nine years, is leaving; he doesn't know where he's going, but he wants to pursue his own thing, possibly Mexican food. Dylan Montano is coming in; I'm super excited for this. He's been the chef at Manzanita, Traci Des Jardins's restaurant in Lake Tahoe, and has worked at Quince.
Keep reading after the jump to learn about what Craig Stoll has planned next.
YS: What kinds of dishes are you working on right now?
CS: With peppers coming into season right now, we have this repertoire of all these pepper dishes that we do. There's a caponata we've had on the menu since I worked at Tutto Bene. It has an Asian technique to it. You sauté garlic, capers, and anchovies until they dissolve a little bit, throw in celery and onions and give it another quick sauté, flood it with a tomato paste and water slurry, bring that to a boil, then add in another slurry of vinegar, sugar, and cornstarch. Bring it to a boil, cut it off, and pour it over your fried eggplant.
YS: What personal traits contribute to your success?
CS: I'm obsessive. I've got this guy cleaning cracks and crevices under the bar right now, because I'll walk in, and that'll drive me crazy. I can't live with that. I'll tweak a dish and tweak it and tweak it and tweak it, look at it, then fuss with it some more. Every now and then, I'll allow myself to sit back and just be like, wow, great dish. Or I'll feel that way about the whole operation. But mostly, they can write articles about us, or give us Beard awards, and I'm sitting here worrying about the caponata being perfect, or the pizza dough not being blistered in the right way. I'm worried about the details. I'm a detail guy, and the restaurant business is a detail business.
YS: Do you have a cookbook planned in the near future?
CS: Yeah, I think so. That might be this year's project. I don't know what this cookbook is, is the problem. The food we do at Delfina is not groundbreaking new food. I don't think the world needs another recipe for short ribs or spaghetti with tomato sauce. Or roast chicken recipes; there are a million out there. I don't know what the book is, but it's not a collection of recipes. I'm not sure what it is yet.
YS: Pizzeria Delfina's wildly successful. Will you expand, in San Francisco or beyond?
CS: Yeah, we'd like to. If we do another one, it might be kind of a mashup with Delfina. But it's all about having enough people and having the talent here to do other things.
YS: What are your favorite restaurants in San Francisco and elsewhere?
CS: We ate at Perbacco last night, and just had a great meal. I go to Thep Phenom and order the weeping lady and green papaya salad. Annie always gets the duck green curry. What I really like now is Lers Ros Thai; I've only been there a few times, and it's a staff favorite right now. All the cooks love going there. I love Mission Chinese Food. We get delivery from there all the time. I love the fried rice and the lamb cumin. I still think the Batali restaurants are amazing. I had an amazing meal last year at Del Posto. Danny Meyer's restaurants are excellent through and through.
YS: You sound really into Thai food. Would you ever venture into it?
CS: I love it. I don't know it well enough; I would love to go spend enough time learning it, and then do it. My family and I are going to go to Thailand for Spring Break this year!
YS: There's been a lot of debate about the state of service in restaurants; Alan Richman caused a stir when he said they were tumbling into informality. What's your two cents?
CS: Here at Delfina, we're doing things that work for us. I think if you say you're not going to serve any vegetables in your restaurant, or whatever it is, it's your business. It's not Alan Richman's business — it's their business! If they're successful at it, and people want to go to it, why is anyone getting hurt in that? We're a generation that doesn't like formality. A formal atmosphere is uncomfortable to me, personally. And why should we be uncomfortable?
Photo credit: Eric Wolfinger