Delicious Menu and Recipe Ideas For Easter
Come Party With Me: Easter — Menu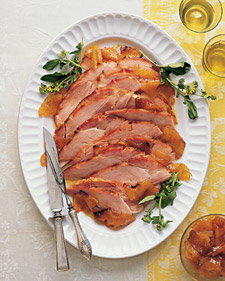 Whether you are hosting a late lunch or early dinner, this year, I have the perfect Easter menu. It's a somewhat classic spread that starts with crisp toasts slathered in shrimp butter. Since Easter is a celebration of rebirth, no meal is complete without Spring's most beloved vegetable: asparagus. Roast it, then serve on top of a bed of seasonal lettuces. For the main course nothing says Easter like a baked ham. Instead of the traditional honey-glazed version, delight guests with a savory sweet pineapple-mustard glazed ham. Pair with creamy scalloped potatoes made with creme fraiche and you've got a spectacular dinner sure to please even the pickiest of in-laws. Want the recipes? Please keep reading.
Ingredients
For shrimp butter
1 1/2 sticks (3/4 cup) unsalted butter, softened
1 lb medium shrimp in shell (31 to 35 per lb), peeled and deveined
1 teaspoon salt
1/2 teaspoon black pepper
1/4 cup minced onion
2 1/2 teaspoons fresh lemon juice
1/8 teaspoon cayenne
For toast points
10 slices firm white sandwich bread, crusts discarded and each slice cut to form 4 triangles
3 tablespoons unsalted butter, melted
Garnish: whole cooked shrimp
Directions
Make shrimp butter: Heat 2 tablespoons butter in a 10-inch heavy skillet over moderately high heat until foam subsides, then sauté shrimp with salt and black pepper, stirring, until just cooked through, 1 1/2 to 2 minutes. Transfer shrimp with a slotted spoon to a food processor, reserving skillet (do not clean).
Cook onion in 1 tablespoon butter in skillet over moderately low heat, stirring occasionally, until softened, 2 to 3 minutes. Scrape onions into processor and cool mixture to room temperature, about 15 minutes.
Add lemon juice, cayenne, and remaining 9 tablespoons butter and pulse until shrimp are finely chopped. Pack shrimp butter into a 2-cup ramekin or serving bowl and chill, its surface covered with plastic wrap, at least 6 hours (to allow flavors to develop).
Bring to room temperature 45 minutes before serving.
Make toast points: Put oven rack in upper third of oven and preheat oven to 400°F.
Brush 1 side of bread triangles lightly with melted butter and toast, buttered sides up, in a large shallow baking pan until golden around edges, 6 to 8 minutes. Transfer to a rack to cool. Serve toast points with shrimp butter.
Serves 10.
Information
Category

Appetizers

Cuisine

North American