Delicious, Smoked Olive Oil
Hassle-Free Smokey Flavor With enFuso Smoked Olive Oil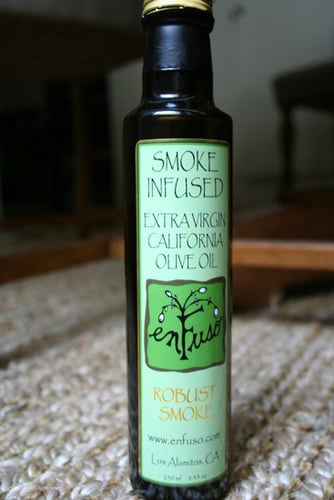 Summer's quickly drawing to a close, but that doesn't have to mean the end of smoky flavors. I recently discovered a useful product, enFuso, that doesn't require hours with a smoker to achieve woodsy flavors in meat or vegetables.
This smoke-infused, extra-virgin olive oil starts with Spanish arbequina olives from California's Capay Valley; they're hand harvested in small batches and infused with a blend of different wood types in a temperature-controlled smoker.
I tried the Robust Smoke variety, and I especially loved sautéing white fish, then serving it with a lemon, caper, white wine, and enFuso-flavored sauce. I envisioned using it to add a hale and hearty quality to roasted potatoes, pizza, hummus, popcorn, and stir-frys.
I can't wait to celebrate the Fall and fast-approaching cold weather by experimenting with this smoke-infused oil. Have you ever tried something similar?