Dessert Recipes For Canning and Preserving Party
Come Party With Me: Canning and Pickling Party — Dessert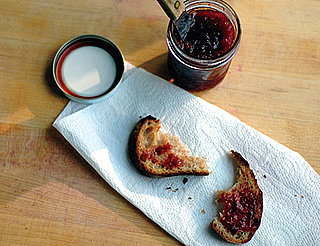 Since I'm serving some savory treats at my preserving party, I also plan to offer one sweet treat. Not just any dessert, but a crumbly, fruity pastry that makes the most of last year's blueberry preserves: blueberry cookie bars. They are simple to put together and if any remain when the party ends, I'll pack them up and offer them as favors to my guest. We'll also be making one sweet jam together: mixed berry jam.
To take a look at these recipes, keep reading.
Ingredients
2 1/4 cups flour
1 cup blanched sliced almonds
1/2 cup sugar
1/2 teaspoon baking soda
1/2 teaspoon salt
1 1/2 sticks (6 ounces) cold unsalted butter, cut into pieces
1 cold egg
1 teaspoon pure vanilla extract
3/4 cup blueberry preserves
Directions
Preheat the oven to 350°. Line a 9-inch square baking pan with a 12-inch-long sheet of foil.
Using a food processor, mix the flour, almonds, sugar, baking soda and salt until the nuts are finely ground.
Add the butter and pulse until coarse crumbs form. Beat together the egg and vanilla; drizzle over the dough mixture. Transfer the mixture to a large bowl and knead with your fingertips until clumpy.
Transfer two-thirds of the dough to the pan and press into the bottom to form an even layer. Spread the preserves on top. Dot the top with the remaining dough in clumps.
Bake until the edges are lightly golden, 35 to 40 minutes. Let cool completely. Turn out of the pan, remove the foil and cut into squares.
Serves 16.
Information
Category

Desserts, Cookies

Cuisine

North American
Ingredients
6 5-to 6-ounce containers raspberries and blackberries (3 containers each)
2 cups sugar
2 tablespoons lemon juice
Directions
Combine fruit, sugar, and lemon juice in large bowl. Let stand at room temperature 2 hours, stirring occasionally.
Put 2 saucers in freezer.
In bottom of heavy large stockpot at least 3 inches deeper than height of jars, place metal rack or extra screw bands from canning jars to protect jars from direct heat. Fill pot with water, cover, and bring water to boil. Reduce heat to low. Wash jars, lids, and screw bands in hot soapy water; rinse well. Set screw bands on clean towel to dry. Place lids in small saucepan; cover with cold water and bring to simmer; turn off heat. Fill jars with very hot water.
Transfer fruit mixture to large saucepan and bring to boil over medium-high heat, stirring occasionally. Mash to thick puree with potato masher. Reduce heat to medium and boil gently until mixture begins to thicken, stirring often, about 18 minutes.
Remove saucepan from heat to test jam for gelling point. Drop 1 teaspoonful jam on chilled saucer and return to freezer 1 minute. Remove saucer and push edge of jam with fingertip. If jam has properly gelled, surface will gently wrinkle. If not, return saucepan to heat and cook jam a few minutes longer; repeat test.
Drain hot water from jars and shake out excess water. Place jars on cutting board. Ladle hot jam into each jar, leaving 3/4-inch space at top. Slide flat plastic spatula between jam and jar to eliminate air bubbles. Clean rim of each jar with damp cloth. Using tongs, lift hot lids from saucepan, 1 at a time, shake dry, and place atop jars. Seal each with screw band, twisting to close but not too tightly. Return filled jars to pot of hot water.
Add water to pot, if necessary, to cover jars by at least 1 inch. Cover pot and bring to boil; reduce heat and boil gently 10 minutes. Turn off heat. Wait 5 minutes; use tongs to remove jars without tilting. Place upright on towel; cool completely at room temperature. Jam will thicken as it cools.
Check lids for seal by pressing each lightly. Lids of sealed jars will be concave and show no movement when pressed.
Makes three to four 1/2-pint jars.
Information
Category

Condiments/Sauces, Jellies/Jams

Cuisine

North American