Details From the 2010 Burger Bash Hosted by Rachael Ray
10 Things I Learned at Rachael Ray's Burger Bash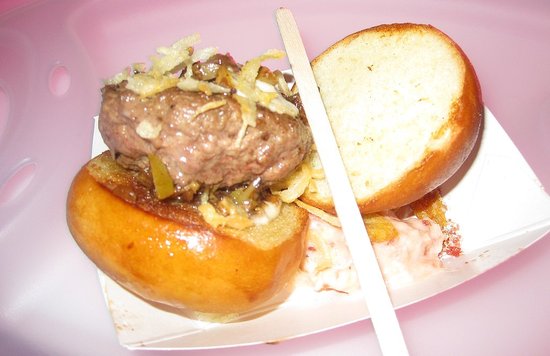 Last night the festivities at the Food Network's annual South Beach Wine and Food Festival kicked off with the highly anticipated Burger Bash hosted by Rachael Ray. The line to get inside stretched from the beach to the street and the place was packed. There were celebrity chefs and well-known food personalities everywhere: serving burgers (Bobby Flay, Daniel Boulud, and Michael Symon), mingling with the crowds (Anne Burrell, Sam Talbot, Sandra Lee), and judging the competition (Art Smith and Carla Hall). I was in attendance and while I had my fair share of scrumptious burgers and amazing side dishes, I learned a thing or 10 at the party. To find out what they are, read more.


A TON of people attend the Burger Bash. Seriously, the place was very packed. There were lines everywhere and it was hard to walk around.
Morimoto sure can draw a crowd. His booth was the most popular; he had a never-ending line all night.
Spike Mendelsohn knows how to make a really good burger. His classic burger with bacon and American cheese on a soft bun was my favorite.
John Cusimano is incredibly short. I happened to be standing right next to him and thought, "Who is this super short guy? He looks so familiar." Then I realized it was Rachael Ray's husband!
Bobby Flay is as cute and charming in real life as he is on television.
Rocco Dispirito doesn't care if he serves burnt buns. My bun was black.
Stephanie Izard makes the most delicious ham French fires. Yes, you read that correctly, I said, ham French fries.
In real life Carla Hall is stunning. She's statuesque, beautiful, calm, and perfectly poised.
Govind Armstrong makes a mean croquette. I went back for his chorizo and potato croquettes three times!
Sadly, there still aren't a lot of female chefs out there. The majority of chefs that competed were male.
Michael Symon and his burger with Swiss, pastrami, and coleslaw was the winner. Unfortunately, it was not one of the burgers I tried!