Difference Between Fajitas vs. Tacos
Fajitas and Tacos: What's the Difference?
In Texas, much like the cattle that dot the Lone Star State, Tex-Mex dishes like enchiladas, queso, and chimichangas dominate. As a native Houstonian, I've devoured more than my fair share of Tex-Mex fare. Nonetheless, I have a deep, dark confession to make: I've never understood the real difference between beef tacos (like tacos al carbon) and fajitas. After all, they're both hot Mexican plates that involve wrapping tortillas around sizzling meat. So is there really even a difference?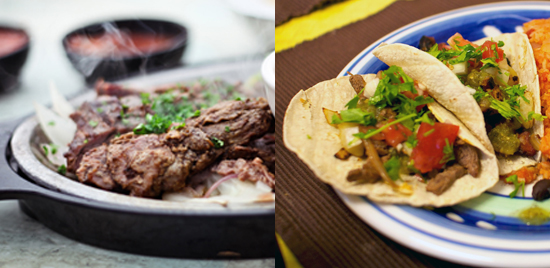 Turns out there actually is. Lisa Fain of the Texas cooking blog Homesick Texan helped set the record straight: "The difference between a fajita and a taco is that the former refers to a type of meat, while the latter refers to a method of presentation," she explained. Find out why this is the case when you read more.
Fajitas (or "little belts" in Spanish) originally hail from Mexico, where the term only applies to beef — specifically, the grilled meat that comes from the narrow skirt steak portion of the cow. In the United States, the term's been applied to a plethora of other proteins, from chicken to shrimp and everything in between.
What about those toppings? "Sure, most of the time fajitas are served with flour tortillas, grilled bell peppers, grilled onions, and a host of other condiments so people can make their own tacos, but technically, the term fajitas alone itself does not signify that it will be a taco." That's why, Lisa explains, "Fajitas can be made into tacos, but a taco isn't always a fajita." Got that?
Have a burning question? Join the Burning Question group in the YumSugar Community! It's your place to post the most pressing questions about the culinary world.
Source: Flickr Users basheertome and gautsch.net