Difference Between Pekin Duck and Peking Duck
Pekin Duck: Don't Confuse It With Peking Duck
Peking duck, pekin duck . . . goose! Only one letter separates a "Pekin duck" from a "Peking duck," so the terms are often used interchangeably. But one paltry letter can be a big poultry difference; these words are both descriptors of ducks, but they're definitely not the same! Peking duck is a famous roast duck dish that comes from China. A Pekin duck is a breed of duck. Also known as a Long Island duck, this domesticated descendant of the Mallard has a yellow bill, white plumage, and orange webs and is the most popular commercial duck breed in America, where they're raised primarily for egg and meat production.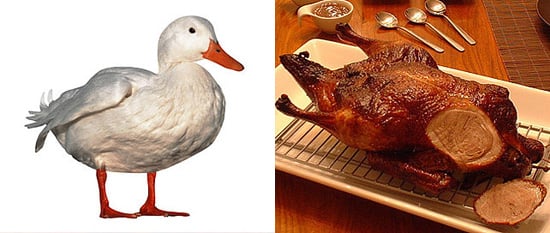 Arguably China's national food, this imperial dish is made by roasting a duck until the skin is deep brown and crisp, then carving the skin to serve alongside steamed pancakes, julienned scallions, and hoisin sauce. The dish hails from Beijing, the country's capital, which was formerly known as Peking.
Peking duck originated in Nanjing, and the first ducks used to prepare the dish were small birds with dark feathers. Incidentally, these days, most Peking ducks are prepared using Pekin duck. How's that for irony?
Source: Thinkstock and Flickr User FotoosVanRobin