A Different Salad: Turnips in Sour Cream
During the period of transition from Summer to Fall, you may find that while you see a lot of Fall produce in the market, the weather isn't quite cold enough for stews. This turnip salad is the perfect dish to make during this brief season. Although it's uncommon to see recipes with uncooked turnips, they're actually delicious eaten raw, with a dense, crunchy texture, and a flavor similar to radishes. It's important to slice the turnips as thinly as possible, and to make sure the salad is seasoned liberally with salt and pepper. If raw onions are too overpowering, reduce the amount of shallots in your salad. To get this recipe, which calls for only four ingredients,
.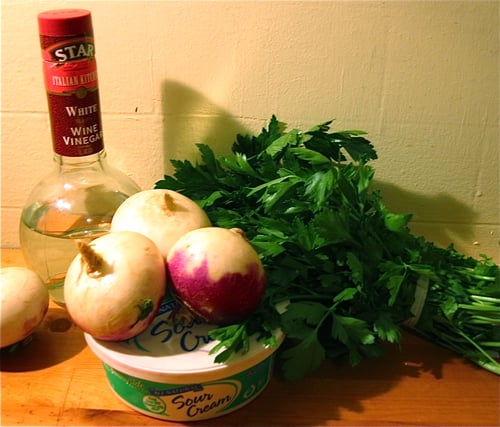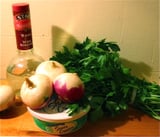 Ingredients
3 turnips, peeled
1/4 cup finely minced shallots
3/4 tablespoon white wine vinegar, to taste
4 tablespoons sour cream
Salt and pepper, to taste
Directions
Thinly slice the turnips. Put in a bowl.
Add the shallots and vinegar, and season to taste with salt and liberal amounts of pepper. Toss together, then stir in sour cream. Chill well before serving.
Serves 4.
Information
Category

Vegetables, Salads

Cuisine

North American