Dining Out in Large Groups at Restaurants
How Far Should Restaurants Go to Accommodate Large Parties?
Eating out with a big group isn't just an adjustment for the establishment; it's also a rather different experience for diners. Two recent incidents have left me pondering: How should a restaurant accommodate large parties? The first scenario involved planning a birthday dinner. After contemplating venues and checking for online reservations, I scored a four-top at a recently sprouted eatery that's opened to great fanfare.
When I called to add a seat, it wasn't a problem. But later, when the guest of honor asked me to change the table for a party of five to seat six, the restaurant wouldn't accommodate the request. Thus, we were forced to seek a reservation (and take our business) elsewhere at the last minute.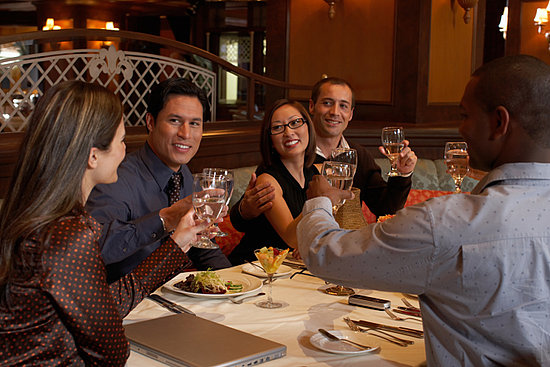 Another experience involved dining in a party of 11 at a restaurant where the service was severely lacking, but we were slapped with a 20 percent gratuity charge. The hospitality errors (such as multiple requests for an item that never came out) were egregious, yet the restaurant had the gall to impose a tip, and an unreasonable one at that.
Big parties can add strain to restaurants, but a huge group is also more likely to order appetizers, drinks, and desserts at a large scale, thereby increasing revenue for an establishment. Why doesn't a restaurant take more steps to accommodate big groups, in an effort to encourage return business? I'd love for you to weigh in and share your take.