Dominique Ansel Interview
Dominique Ansel's Surprising Achievement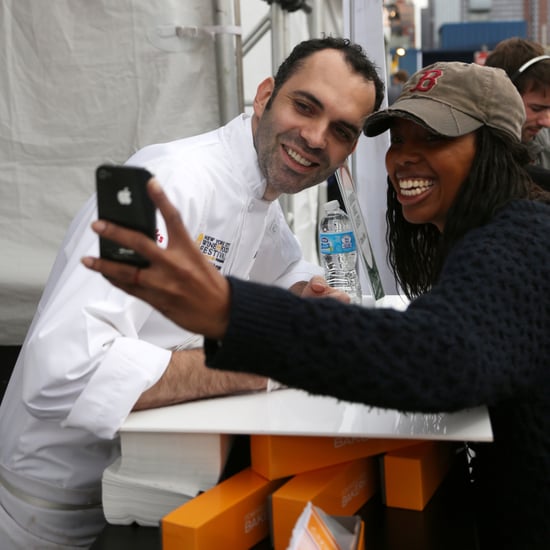 Cronuts: we haven't seen a population this crazed about pastries since the opening of Sprinkles Cupcakes, and there's no sign of slowing down. The world wants more Cronuts, and creator Dominique Ansel is finding ways to serve the public outside the bakery — for a good cause, of course. He recently partnered with Shake Shake to create a Cronut Hole Concrete, raising $5,000 for widows of the New York Police Department and their children. At the City Harvest's Bid Against Hunger auction, a dozen donated Cronuts went for $14,000. And over the weekend, Cronut holes made a second debut at the New York City Wine & Food Festival's Jets + Chefs event, where ticket proceeds go to the Food Bank For New York City and Share Our Strength's No Kid Hungry campaign. Dominique stepped away from his Cronut hole assembly line to discuss his life AC (after Cronut) and his proudest accomplishment. If you don't already love Dominique, then you will after hearing what he has to say.
POPSUGAR: It's been over five months since the Cronut's release. How are you feeling?
Dominique Ansel: It's been great. I see a lot of happy, very excited people every morning, and it makes me happy.
PS: Your hours are long and grueling. What keeps you motivated?
DA: What keeps me motivated? The passion that people have for food. I'm very excited to see so many people in the morning from all over the world all over the country. It's just fun. It's what I love doing, baking and cooking. And this is what people come for.
PS: You've told other journalists that you want to be known for something other than the Cronut. What do you want to be known for?
Keep reading to hear Dominique discuss his legacy.
DA: I want to be known for creating. We change the menu very often, every six to eight weeks, since the opening of the shop. We try to be creative and innovative in term of pastries. That's what I've been doing before, and that's what I will keep doing.
PS: Tell us about the very moment you invented the Cronut.
DA: We had a meeting between the team, like we have every week. Someone mentioned, "Maybe we should do a doughnut." I'm French, and I don't have a recipe for a doughnut. So I came up with a recipe with flaky layers, similar to a croissant.
PS: You've invented so many things, from the Magic Soufflé to frozen s'mores. What are you most proud of?
DA: What I'm most proud of is to be able to have a charity like the Food Bank and [to be able to] help others with our passion and the passion that people have for food. We are able to give back to others in need. It's great to participate and be a part of the food scene in New York and be able to reach out to other people and raise money for a good cause.
PS: You're working on a forthcoming cookbook. What recipes can we expect to see?
DA: I'm still working on it right now with my editor, but the cookbook will showcase all of the pastries that we've been doing since we've opened the shop. We'll talk about creativity. Often people ask me, "What was your inspiration?" That's what I want to give to people. I want to show them how I think and how you can take something simple and classic and turn it into something unique and really different.
PS: We're seeing a lot of freeze-dried fruit and pop-rock sugar in confections. Do you think you'd ever use these ingredients in your pastries?
DA: I'm not really familiar with all of those products. I might try a few. I think that generation after generation, we change the way we eat, and we should always keep looking at the way we eat and how we eat. But the quality of food is very important as well.
PS: Is there any ingredient you will never use in your pastries?
DA: I would never say never, but I like things that are tasty. I'll use whatever I think is good.
PS: What's your favorite thing in your bakery case?
DA: That's the DKA [Dominique's Kouign-Amann] — the one you had yesterday. Like a flaky, caramelized croissant. I eat one every morning. It's my absolute favorite.