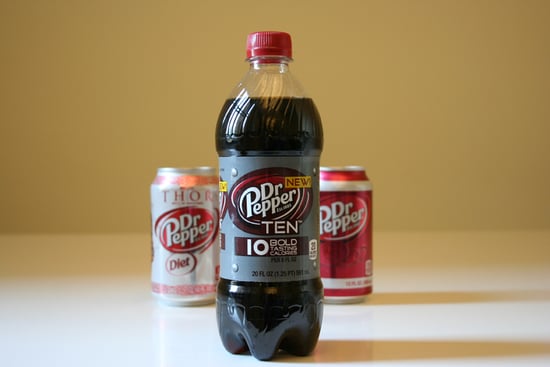 The Dr Pepper Ten ads have sparked a lot of controversy in the past month for their perceived sexism. The beverage is targeted to men, with ads claiming there's nothing girlie or unmanly about this diet drink. So we rounded up a group of male and female taste testers and tried it alongside regular Dr Pepper and Diet Dr Pepper. Check out what our tasters had to say about Dr Pepper Ten.
The promise: "A unique blend of sweeteners that delivers the iconic flavor and beverage experience of regular Dr Pepper with just 10 calories."
See if the promise held up.
What our tasters thought: "It's watered down flavor wise," two tasters remarked. "Dr Pepper Ten is light and soft," thought a fan of the product. Several said it was flavorless and flat. Another wanted "more effervescence." One taster commented, "It doesn't taste chemically."
What YumSugar thought: Dr Pepper Ten is less sweet than its regular counterpart. In addition, it's less fizzy and lighter in flavor than the diet and regular versions. On the upside, Dr Pepper Ten does not have the weird, metallic aftertaste from aspartame experienced when drinking Diet Dr Pepper.
Tasters' rating average: 3 out of 5
Overall thoughts: Of the 10 taste testers, only one said that she would buy the product over regular Dr Pepper. That's right — that taster was female; not one of the male testers would buy the beverage over regular Dr Pepper. One wise taster commented, "The men who drink diet sodas are already doing so. I don't think marketing this beverage as manly will win over new diet soda converts." Everyone unanimously thought that the drink was definitely better tasting than Diet Dr Pepper. But ultimately, all the testers, including myself, love the 23 flavors, 150 calories, and 40 grams of high fructose corn syrup that make regular Dr Pepper so delicious. Keep making the good stuff!
Watch the hilarious Dr Pepper Ten commercial:
Have you tried Dr Pepper Ten?