Dreyer's Cake Batter Ice Cream Review
Cool Down With a Scoop of Dreyer's Latest Ice Cream Flavors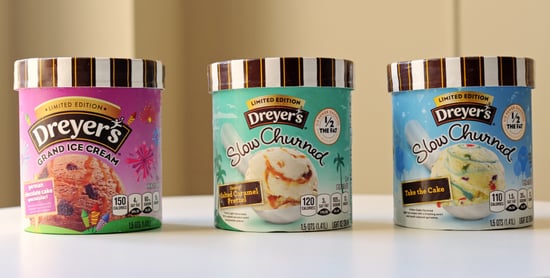 Ice cream is a hot topic around these parts, so it was with much excitement that we dug into the latest lineup of limited edition flavors from Dreyer's (known as Edy's east of the Rockies). We hoped these new additions to the supermarket ice cream section, which range from cake batter to salted caramel with pretzel, could live up their promise. Ice cream scoop at the ready, we dug in, and (spoiler alert!) may have found a new obsession along the way.
Dreyer's Slow Churned Sunny Salted Caramel Pretzel
Take vanilla ice cream and add a generous swirl of salted caramel and chunks of pretzels and it's bound to be a recipe for success, right? While promising in theory, this flavor fell short due to one crucial error: the pretzel chunks were unpalatably soggy rather than crisp and crunchy. And what a shame: the caramel has a strong salty punch, and the ice cream a just-right level of sweetness. This flavor would likely have earned full marks if the creamery had first enrobed the pretzel chunks in chocolate to provide a barrier from the ice cream's moisture and preserve their crunch.
Keep reading to see how the other flavors fared, and for our top pick.
Dreyer's Grand German Chocolate Cake Spectacular
This take on the classic chocolate-coconut cake was an undisputed win in our book; it was so good, one taster uttered an excited string of expletives on first bite. Rich and chocolatey with an authentic, prominent coconut flavor and a hefty dose of caramel, it even tempted the most lactose-intolerant of eaters to eat a larger-than-advisable serving.
Dreyer's Slow Churned Take the Cake
A smattering of sprinkles might be a visually enticing addition to cake batter-flavored ice cream, but here, they were this offering's downfall, adding a cloying sweetness and a bitter chemical aftertaste. That said, a few tasters felt this flavor was delightful, praising its creamy texture and spot-on vanilla cake flavor. Our verdict? Try this flavor at your own risk.