Drunken Desserts: Watermelon Margarita Popsicles The news about the effects of watermelon inspired me to create my newest popsicle: watermelon margarita! Served with a small bowl of margarita salt, these uberfrozen margs were tangy and delicious. Beware, the popsicles contain liquor and melt rather quickly. To avoid a melty mess, I froze my platter for an hour before serving. Learn how to make these simple, scrumptious popsicles when you
!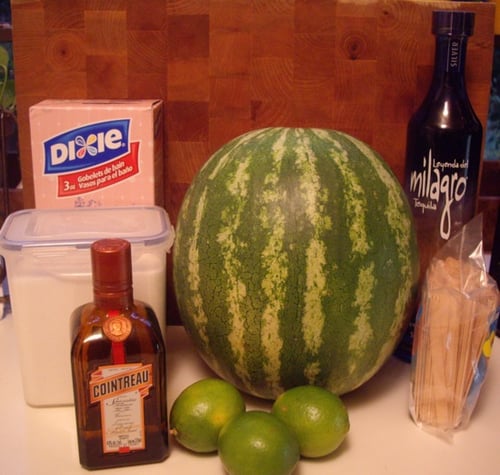 Watermelon Margarita Popsicles
Original Recipe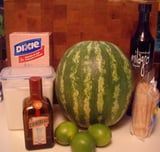 Ingredients
2 cups watermelon puree (roughly 1/4 medium size seedless watermelon)
1/4 cup lime juice (roughly 1 large lime)
3 ounces tequila
1 ounce cointreau
2/3 cup sugar
Directions
Chop the watermelon into small pieces. Using a Cuisinart, puree the watermelon. Place the puree in a large mixing bowl.

Add lime juice and sugar to watermelon puree. Stir until the sugar has dissolved. Add tequila and cointreau and stir well.

Fill popsicle molds or Dixie cups. If using a dixie cup, cut small squares of tinfoil to cover the top of each of the cups.

Use a sharp small knife and cut small slits in the tops of the tinfoil to insert the popsicle stick.

Place the Dixie cups in a flat bottomed container. Place the popsicles in the freezer and wait patiently until frozen.
Makes 10 3-ounce popsicles.
Information
Category

Desserts, Frozen

Cuisine

Other