Duck Meatballs
Meatball Madness Favorite: Duck Meatballs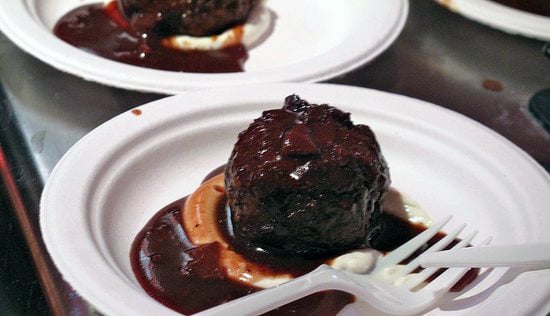 I just attended our first event of the New York City Wine & Food Festival, Giada De Laurentiis's Meatball Madness (check out that meatball selection!), and our favorite meatball of the night was — gasp! — not even made from red meat at all.
First, a disclaimer: a delayed flight meant that by the time I'd arrived, most of the meatballs were entirely picked over. But of those that were still being served, the one that stunned me the most came from midtown Manhattan's Fresco by Scotto. I'll admit that the restaurant — a Manhattan mini-chain that's recently branched out into, of all things, frozen dinner deliveries — was a bit of an unlikely contender. But I was blown away by the restaurant's impressively tender meatball of ground duck and porcini mushrooms, served in a sauce of sun-dried cherries and Barolo wine.
Despite a longtime love affair with ground meats, it had never, ever occurred to me that a meatball composed of duck meat could be so delectable. After tonight, I've decided that it's going to have to be my next kitchen experiment! Have you ever had a duck meatball?