Dungeness Crab Season
Dungeness Crab Season: 10 Things You Need to Know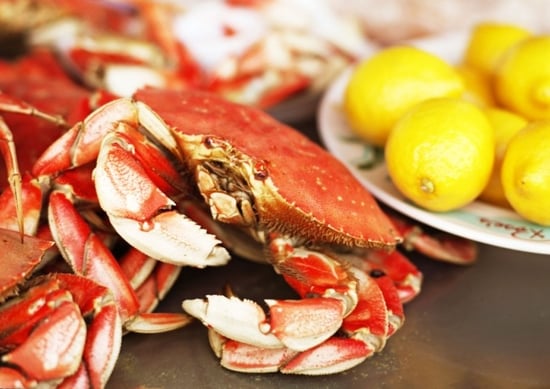 On the West Coast, the holidays aren't all about parties, roasts, and cookies; they're also about fresh, abundant Dungeness crabs, which are in peak supply during this time of year. But everything about the crustacean, from understanding the season to selecting the right live one, can be tricky.
To get a better handle — er, claw — on all things Dungeness, I turned to two seafood experts: wholesale distributor Mike La Rocca of La Rocca Sea Food and Misael Reyes, executive chef at the sea-centric Bistro Boudin in San Francisco. A few points I learned from the pros:
Dungeness crabs own the West Coast. They live in Pacific Ocean waters that run all the way from San Luis Obispo, CA, to as far north as Juneau, AK.
The season has official start days. The official kickoff of Dungeness crab season for the San Francisco Bay Area is the second Tuesday of November, and Dec. 1 for any area north of that, such as Oregon or Washington.
Things don't always go smoothly, though. Crab conditions and price negotiations can easily delay the season. This year, it took several days for fishermen and processors to reach an agreed-upon price.
Crab season is long, but timing is everything. Dungeness crab season doesn't actually end until June, but around 80 percent of Bay Area Dungeness is brought in by the end of the year. The rest of the harvest is brought in from regions farther north, such as Alaska.
More — including how to tell if it's a good season — when you keep reading.
Test polls indicate whether it'll be a robust season. Preseason testing — done up to six weeks ahead of time — determines not only whether or not crabs have molted and filled their new shells, but also how many crabs are out there. This gives fishermen a good idea of the season's supply.
That crab you're eating is a big guy. The Department of Fish and Game prohibits harvesting female crabs, which are smaller and have a different ribbing on the stomach. They must be males, and at least 6-1/2 inches in shell width.
Washington and Oregon top the charts. The two Northwest states typically produce more crab than the state of California does.
The cost of your crab weighs heavily on season and supply. When the crab is local and in high supply, costs are guaranteed to be dramatically lower than when crab's out of season, flown in, or in strong demand.
The easiest way to get the Dungeness out of the shell is to separate each joint. Crack and split every section of the crab individually, and you're guaranteed to get whole pieces of meat.
The shells are an indicator of done-ness in cooking. When crab's undercooked, it'll be tough to remove the shells. When it's overcooked, the meat will feel dry.
How do you celebrate the peak of crab season?