Dunkin' Donuts Gluten-Free Options and New Hearty Snacks Menu
Dunkin' Talks Trends, Competition, and Breakfast For Dinner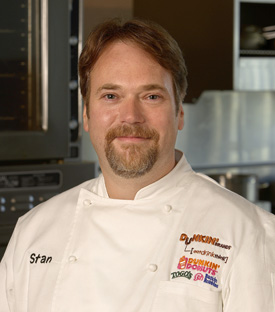 Earlier this morning, Dunkin' Donuts announced that it's come out with Hearty Snacks, a new menu that features the likes of stuffed breadsticks and handheld pies.
We took a minute to talk to Stan Frankenthaler, Vice President and Executive Chef of Product Innovation for Dunkin' Brands, who spoke about the reasoning behind his all-day snack food choices.
See what he had to say about adapting to trends and the fierce competition that is fast food breakfast when you keep reading.

YumSugar: Where did you come up with the idea for your snack menu?
Stan Frankenthaler: Industry studies and our own consumer research clearly show that people are busier than ever and seek items that can be enjoyed on-the-go, any time of day. Hearty Snacks. . .deliver guests fast, fresh, and satisfying snacks. The new Stuffed Breadsticks offer a savory choice, while Warm Apple Pie satisfies cravings for something sweet. Our Bagel Twists were introduced as new way to enjoy a bagel in a more portable, easy-to-eat shape.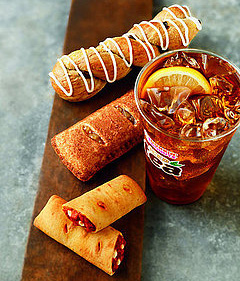 YS: But bagels are a breakfast staple, and apple pie is thought of as a dessert.
SF: Today's time-starved consumer wants the flexibility to enjoy a full variety of offerings that are not limited by time of day. People no longer accept being offered breakfast only in the mornings, or sandwiches only in the afternoon. Our guests. . .enjoy Dunkin' Donuts' food and beverages served fast and fresh, whether it's 8 a.m. or 8 p.m.
YS: What do you offer that's gluten-free?
SF: At this time, none of our items are gluten-free. We've been asked that question in the past. I can tell you that we're continually adding to and changing our menu, and are examining ways to make more offerings at Dunkin' Donuts for guests with a variety of food allergies. Our most popular offering, coffee, is completely gluten-free.
YS: There's been massive competition in the area of fast food breakfast. How are you handling the competition?
SF: The key. . .is listening to our guests and evolving to meet their needs. We're committed to seeking new and innovative ways to expand the choices on our menu, and delivering a great value. For example, just this year we introduced the Egg White Wake-up Wrap, which is part of our DDSmart line of better-for-you items, and the Big N' Toasty Breakfast Sandwich for guests seeking a heartier option.
What are you hoping to see Dunkin' Donuts add to its menu?