Dunkin' Donuts Reveals "Hearty Snacks" All-Day Menu
A First Look at the Hearty Snacks Menu by Dunkin' Donuts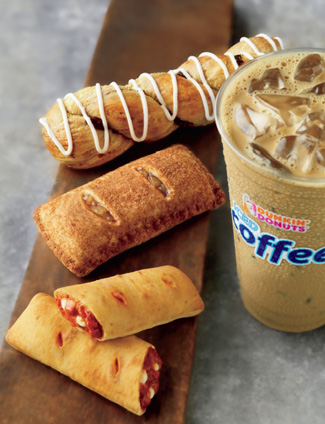 Looks like Dunkin' Donuts is moving beyond the battle for breakfast sales. This morning, the chain has unveiled Hearty Snacks, a new line designed to fuel customers throughout the day and in between meals.
The initial lineup includes Stuffed Breadsticks in two flavors, Cheeseburger and Pepperoni & Cheese ($1.59); Bagel Twists, in savory (Cheddar Cheese) and sweet (Cinnamon Raisin) ($1.39); and Warm Apple Pie, baked with cinnamon sugar ($1.29).
Why the focus on daytime snacking? Why, time! "People today have less time than ever before and seek foods that can be enjoyed on-the-go, any time of day, with no compromise on taste or quality," Dunkin' said in a statement.
The company's shifted its strategy hot on the heels of a report that revealed 55 percent of consumers snack at least once a day, and 21 percent are snacking more frequently than they did two years ago. Sounds like an all-day grazing menu could be the next frontier in fast food. Check out the new menu below. What do you think of the snack offerings?