Easy Baked Shrimp Recipe
Fast and Easy Dinner: Baked Herbed Shrimp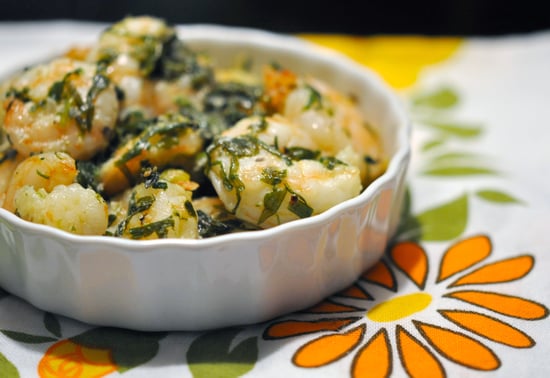 Baked shrimp is a great weeknight dinner because it can be prepped in advance, and the quick cook time ensures no one will have a rumbling belly. For my version, I combined lemon-flavored olive oil with a bunch of herbs, including tarragon, lemon thyme, and chives. However, the simplicity of this dish allows you to use whatever herbs you have on hand: oregano, rosemary, basil, anything would be delicious! Feel free to experiment with the endless varieties. Want more spice? Add chopped jalapeños or some crushed red pepper flakes. I served it with a Spring salad and fresh bread for a filling meal. Keep reading for this incredibly easy dish.
Baked Herbed Shrimp
From Lauren Hendrickson
Ingredients
2 pounds of shrimp, cleaned, peeled, and deveined
1/2 cup lemon olive oil or olive oil
1/4 cup chives, roughly chopped
1/4 cup tarragon, roughly chopped
1/4 cup lemon thyme or thyme, roughly chopped
2 garlic cloves, finely chopped
2 tablespoons champagne vinegar
Directions
Preheat the oven to 450°F.
Mix all of the ingredients in a large bowl and make sure to combine thoroughly. The mixture can be marinated for up to an hour prior to baking.
Place the shrimp in a large casserole dish and make sure they are in an even layer with no overlapping.
Bake for 15-20 minutes or until the shrimp is pink and cooked through. Serve with lemon wedges, if desired.
Serves 6-8.
Information
Category

Main Dishes, Fish

Cuisine

North American