Easy Breadsticks Recipe
Bread Winner: Easy, Addictive Breadsticks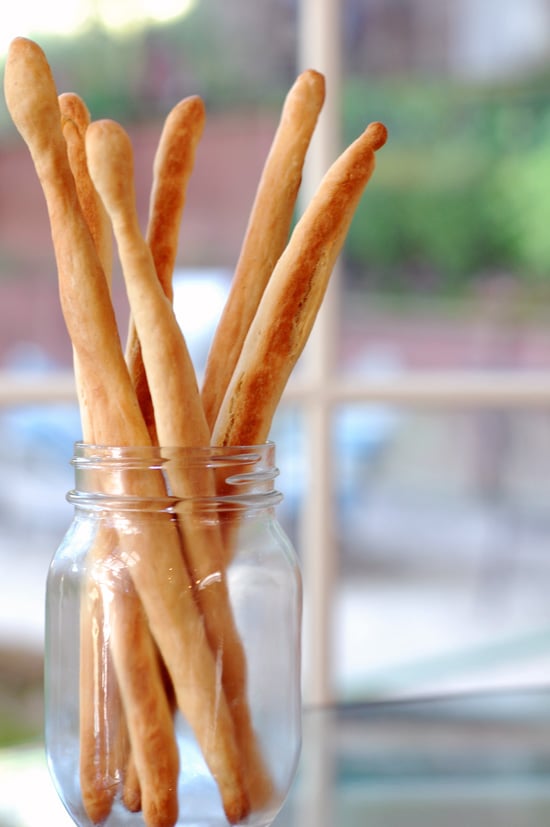 Breadsticks aren't something that I think about very often. What I mean by that is often I overlook them for other, more exciting snacks or appetizers. But I've recently come to realize that a fresh batch of breadsticks is simple, uncomplicated, and completely addictive.
As far as bread goes, this definitely can be considered a fast and easy recipe. It takes just minutes to come together, followed by one hour of resting, then about 30 minutes of baking.
There are a few things that I think could really enhance this recipe: a sprinkling of sesame seeds or good kosher salt. I also upped the temperature a bit to 375° F (or you could roll your breadsticks thinner) because I found that they weren't crunching up as much as I would have liked.
Crunchy Piedmontese Breadsticks
From Saveur
Ingredients
4 cups "00" flour (Italian-style flour)
3 tablespoons extra-virgin olive oil
2 teaspoons sugar
2 teaspoons salt
1 7-gram package active dry yeast
Directions
Put flour, oil, sugar, salt, yeast, and 1-1⁄3 cups water into a large bowl and stir well to combine (the mixture should be sticky). Cover bowl with plastic wrap and set aside to let rest for 1 hour.
Preheat oven to 350° F. Form dough into 30 1-1⁄2-inch-wide balls (each about 1 ounce). Working with 1 ball of dough at a time (keep others covered with a towel), roll and stretch dough into a 16-inch rope. Transfer to parchment paper-lined baking sheets as done, keeping the ropes about 1 inch apart. Bake until light golden brown and crisp, about 25 minutes. Transfer to a rack to let cool.
Makes 30 breadsticks.
Information
Category

Breads

Cuisine

North American