Easy Brunch Menu and Recipes For Mom
Come Party With Me: Brunch For Mom — Menu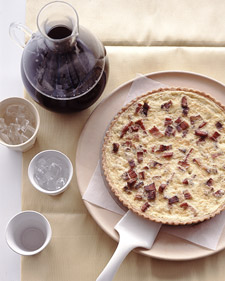 Mother's Day is this Sunday, and I feel lucky to say that I'll be spending the day with my fabulous mom. Both of my siblings are far away, so it will be a small celebration with my parents and me. Instead of going out to brunch, we'll enjoy a leisurely meal in the front patio. On the menu? All of mom's favorites! She's a fan of simple food, so the main attraction is a classic quiche lorraine. Twice-cooked hash browns and a strawberry orange salad round out the easy menu. On Saturday night, I'll put together the quiche and bake the potatoes. Then come Sunday morning, all I have to do is bake the quiche, finish the potatoes, and throw together the salad. To enjoy these dishes with your loved ones, get the recipes now.
Ingredients
All-purpose flour, for dusting
10 ounces slab bacon, cut into 3/4-by-1/4-by-1/4-inch strips
3 large eggs
2 cups heavy cream
3/4 teaspoon coarse salt
1/4 teaspoon freshly ground pepper
Directions
On a lightly floured work surface, roll out dough to 1/4 inch thick. Cut out a 13-inch circle from dough. Press dough onto bottom and up sides of an 11-inch tart pan with a removable bottom; trim dough flush with top edge of pan. Prick bottom all over with a fork. Transfer to a rimmed baking sheet. Freeze until firm, about 30 minutes. Preheat oven to 400 degrees.
Line tart shell with parchment paper, and fill with pie weights or dried beans. Bake until dough starts to feel firm on the edges, about 20 minutes. Remove parchment and weights; continue baking until crust is pale golden brown, about 10 minutes. Let cool completely on a wire rack. Leave oven on.
Cook bacon in a large skillet over medium heat until browned, about 10 minutes. Transfer with a slotted spoon to paper towels to drain.
Whisk eggs, cream, salt, and pepper in a medium bowl. Pour mixture into tart shell, and scatter the bacon strips on top. Bake until puffed and pale golden brown, about 30 minutes. Let cool at least 30 minutes before serving.
Makes one 11-inch quiche.
Information
Category

Main Dishes, Eggs

Cuisine

French
Ingredients
2 large russet potatoes
2 tablespoons unsalted butter
1 medium onion, finely chopped
Kosher salt and freshly ground black pepper
2 tablespoons vegetable oil
Directions
Preheat the oven to 400 degrees F.
Scrub the potatoes well and dry with paper towels. Poke several holes in them with a skewer to allow steam to escape. Place the potatoes on a small baking sheet and bake, uncovered, until tender, about 1 hour.
Allow the potatoes to cool to room temperature. Refrigerate in a plastic bag with a resealable closure overnight.
Peel the potatoes and cut into 1/3-inch dice. Melt the butter in a large skillet over medium heat and add the onion. Cook, stirring often, until softened, about 5 minutes. Season with salt and pepper. Use a slotted spoon to transfer the onion to a small bowl.
Add the vegetable oil to the skillet and heat until almost smoking. Add the potatoes and leave to form a crisp crust. Do not disturb the potatoes until the crust is formed, about 5 minutes. Check to see if a crust has formed; if so, give a quick stir. If not, continue cooking for another 1 to 2 minutes, until the crust has formed.
With a spatula, turn over large chunks of the crusted potatoes. Season with salt and pepper and continue cooking until golden brown. Stir in the onion, season again with salt and pepper, and stir until the hash is heated through, about 3 minutes. Serve hot.
Serves 4.
Information
Category

Potatoes, Breakfast/Brunch

Cuisine

North American
Ingredients
3 cups sliced hulled strawberries (about one 22-ounce basket)
3 large navel oranges, peeled, thickly sliced crosswise, cut into 3/4-inch pieces (about 3 cups)
2 tablespoons (packed) golden brown sugar
2 tablespoons thinly sliced fresh mint leaves
Directions
Toss all ingredients in large bowl. Let stand at room temperature 30 minutes.
Serves 4.
Information
Category

Other, Breakfast/Brunch

Cuisine

North American