Easy Christmas Dinner Menu and Recipes
Come Party With Me: Christmas Dinner — Menu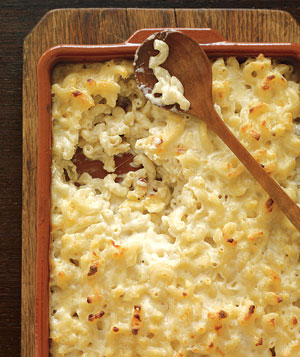 I'm hosting Christmas dinner for the first time this year, and I want to serve a meal that is traditional but uncomplicated to make. To start, I'll offer my signature appetizer: shrimp. This time I'm salt-roasting them and pairing them with a lemon-pesto.
For the main course, I'm skipping the honey-baked ham and roasting a whole beef tenderloin. It's served alongside a roasted red pepper and black olive sauce. On the side? Fresh citrus and cranberry salad and a giant casserole dish of classic macaroni and cheese. Interested in these recipes? Keep reading!


Salt-Roasted Prawns With Lemon Pesto
From The Nest
Ingredients
For lemon pesto
1 lemon
1 1/2 cups tightly packed fresh basil leaves
1/3 cup (1 ounce) freshly grated parmesan cheese
1/3 cup extra-virgin olive oil
1/4 cup toasted pine nuts
1 clove garlic
1/2 teaspoon salt
Pinch of freshly ground pepper
For prawns
About 3 cups rock salt
24 medium prawns or shrimp in shells
Directions
To make the pesto: Grate the zest from the lemon and squeeze 2 tablespoons juice. Put the basil, cheese, olive oil, pine nuts, lemon zest, lemon juice, garlic, salt, and pepper in a food processor fitted with the metal blade; process until the mixture forms a smooth paste. (Pesto can be made ahead, transferred to a bowl, covered, and refrigerated for up to 1 day.)
Preheat the oven to 550 degrees F. Spread the rock salt on the bottom of a 10-inch gratin dish or other shallow decorative ovenproof dish; the layer of salt should be about 3/4 inch thick. Place prawns in a single layer, on their sides, directly on the salt, pushing them down slightly to partially bury. Roast until prawns are pink, 3 to 5 minutes. Remove the dish and let the prawns cool a few minutes.
Place the pesto in a small heatproof bowl and nestle it in the center of the baking dish with the prawns and salt around it; serve immediately. (Or, if desired, remove the prawns, cut down the backs of the shells with sharp kitchen scissors, and peel off the shells to just above the tails. Serve the peeled shrimp on a platter with the pesto.)
Makes 24 shrimp.
Information
Category

Seafood, Appetizers

Cuisine

North American