Easy Cranberry Appetizer Recipe
Killer App: Cranberry, Pear, and Orange Crostini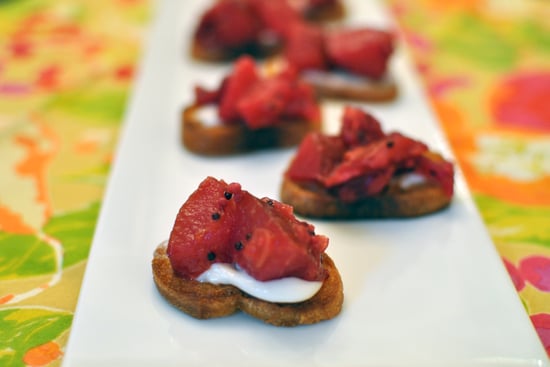 Cranberries are a staple for this time of year, but I always like to try something different from the traditional cranberry sauce. My suggestion? Skip serving them in a bowl and use them in a stellar mostarda-topped crostini appetizer. Mostarda is a traditional Italian condiment that combines sweet cooked fruit with a savory mustard sauce; it's often served with meat, which would make it perfect for topping pork or turkey. I was ready to try something new, so I baked up some crostini and topped them with a triple-creme goat brie, finishing with a spoonful of flavorful mostarda. Trust me: you won't miss cranberry sauce once you start popping these tasty apps. Keep reading for the recipe.
Crostini With Orange, Pear, and Cranberry Mostarda
Adapted from Fine Cooking
Ingredients
1 medium blood orange or 1 medium orange
2 sprigs fresh rosemary
1 fresh (or 1/2 dried) bay leaf
1 cup dry white wine
2 Tbs. mild honey, such as clover
1 Tbs. brown mustard seeds
1 Tbs. yellow mustard seeds
Kosher salt
2 medium firm-ripe pears (preferably Bosc), peeled, cored, and cut into 1/2-inch dice
1 cup fresh cranberries
To serve as an appetizer:
1 baguette, cut into thin slices and toasted
8 ounces of a creamy cheese, such as goat cheese or brie
Directions
Peel a 1x3-inch strip of zest from the orange. Trim off any white pith from the strip with a paring knife and put the zest in a 3-quart saucepan. Trim away the remaining orange peel and cut the segments free from the membranes, letting them fall into the saucepan. Squeeze the juice from the membranes into the saucepan.
Tie the rosemary and bay leaf into a cheesecloth bundle and add to the saucepan along with the wine, honey, mustard seeds, and 1 tsp. salt. Bring to a boil over medium heat. Reduce the heat to maintain a simmer and cook until the honey dissolves and the flavors meld a bit, about 2 minutes.
Add the pears and cranberries and return to a gentle simmer over medium-low heat. Cook, stirring occasionally, until the fruit is tender and the liquid is syrupy, 25 to 30 minutes. Remove from the heat, discard the herb bundle and zest, and let cool. Serve at room temperature. It will keep in the refrigerator for 1 week.
To make the crostini, toast the baguette slices until golden, spread with cheese and top with 1 to 2 tablespoons of the mostarda.
Makes about 2 cups mostarda (roughly 30 crostini).
Information
Category

Appetizers, Breads/Crackers

Cuisine

North American
Getting ready for the holidays? Share your ideas and recipes with the YumSugar Community. We can't wait to see them!