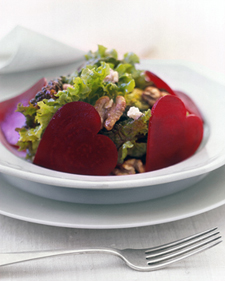 This Valentine's Day, don't bother with restaurant reservations and overpriced three-course menus. Instead, cook up a deliciously decadent dinner for two in the comfort of your own kitchen. Light candles, turn on mood music, and pour glasses of wine.
As for the menu, start with classic crab cakes — this variation highlights the meaty, pure flavor of crab. For the main course serve a luxuriously rich fettuccine Alfredo. Yes, it's fattening, but it's a special occasion! On the side, offer a mixed green salad with heart shaped beets. For these simple yet stunning recipes,
.


Ingredients
2 slices firm white sandwich bread
1/2 pound jumbo lump crabmeat, picked over
2 tablespoon mayonnaise
1/2 teaspoon Worcestershire sauce
1 large egg, beaten
2 tablespoon unsalted butter
lemon wedges, for serving
Directions
Tear bread into small pieces into a bowl with crab. Add mayonnaise, Worcestershire sauce, 2 Tbsp egg (discard remainder), and a pinch of salt. Mix together gently but thoroughly, then form into 4 patties (about 3 inches in diameter).
Heat butter in a 12-inch heavy skillet over medium heat until foam subsides, then cook crab cakes, turning once, until golden brown, about 6 minutes total.
Serves 2.
Information
Category

Seafood, Appetizers
Ingredients
3/4 pound egg fettuccine
1/2 cup butter, cut into 1/2-inch dice
1/4 cup freshly grated Parmigiano-Reggiano
Salt and pepper
Directions
Bring 6 quarts of water to a boil and add 2 tablespoons salt. Cook the fettuccine in the boiling water according to the package directions, until tender yet al dente. Drain the pasta, reserving the pasta water, and place in a large, heated bowl.
Add the diced butter and grated cheese and toss with tongs or other utensil until the butter and cheese have melted, adding a splash or two of the pasta cooking water to keep the mixture from getting too "tight." Season with salt and pepper, to taste, and serve immediately.
Serves 4.
Information
Category

Pasta, Main Dishes

Cuisine

Italian
Ingredients
your favorite green salad
1 beet
Directions
Prepare the beets by roasting or steaming them: To roast, heat oven to 400 degrees, wrap beets tightly in foil, and cook until a fork slides in easily, about 1 hour; to steam, place whole beets in a steamer basket in a medium saucepan, and cook until fork tender, 25 to 60 minutes, depending on their size.
Peel the beets once they're cooled; for easy peeling, use paper towels to rub skins off.
Slice peeled beets thinly with a mandoline, and make heart shapes with a cookie cutter. Serve arranged around the edge of favorite green salad.
Serves 2.
Information
Category

Greens , Salads