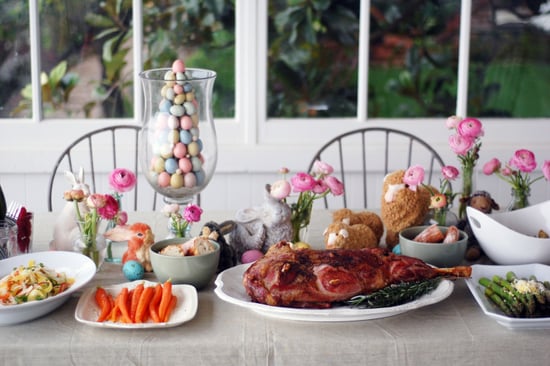 Holiday meals can be a source of great stress and anxiety. There's a lot to think about: what to serve, when to cook it, how to decorate. But with a well-thought-out meal and a little bit of effort, you can create an Easter feast that is sure to impress.

I've come up with a menu full of fast and easy dishes, many of which can and should be served at room temperature. Brightly colored Spring ingredients are highlighted and none of the dishes require much effort on your part. I love decorations that look like they were thrown together naturally — beautifully dyed Easter eggs scattered across the table, sweet stuffed Spring animals to join the party, and your favorite flowers in mismatched small vases to set a happy tone.


For the complete menu, read on.
Easter Lunch Menu
Rosé Champagne and Raspberries
Rosemary Roasted Leg of Lamb
Fingerling Potatoes Sautéed in Butter and Parsley
Steamed Carrots With Olive Oil and Lemon Juice
Asparagus With Grated Hard-Boiled Egg and Vinaigrette
Shaved Vegetable Salad
Strawberry Tart With Freshly Whipped Cream
Make sure to check back in throughout this week to get all of the recipes for this menu, plus so much more! Do you know what you're serving for Easter?