Easy and Expert Recipes For Classic Chicken Noodle Soup
Chicken Noodle Soup Two Ways — Beginner and Expert Every year, I try my hardest not to get sick during cold season, but inevitably I always do. This month, it hit me hard, and I spent a lot of time drinking lemon honey water. I craved mostly refrigerated Cuties and classic chicken noodle soup by the bucket. I keep two recipes handy: a super-easy one for me to make when I really only want to be in bed, and a ridiculously therapeutic one that's made from scratch. Warm yourself or a loved one with either soup when you
.
Beginner Classic Chicken Noodle Soup

Ingredients
4-1/2 cups chicken broth
1 cup chopped onion (1 large)
1 cup sliced carrot (2 medium)
1 cup sliced celery (2 stalks)
1 teaspoon dried basil, crushed
1 teaspoon dried oregano, crushed
1/4 teaspoon ground black pepper
1 bay leaf
1-1/2 cups dried medium egg noodles
2 cups chopped cooked chicken
Directions
In a 3-quart saucepan combine broth, onion, carrot, celery, basil, oregano, pepper, and bay leaf. Bring to boiling; reduce heat.
Simmer, covered, for 5 minutes.
Stir in uncooked noodles. Return to boiling; reduce heat.
Simmer, covered, for 8 to 10 minutes or until noodles are tender but still firm and vegetables are just tender. Discard bay leaf. Stir in chicken; heat through.
Makes 4 main dish servings.
Information
Category

Soups/Stews, Pasta/Noodle

Cuisine

North American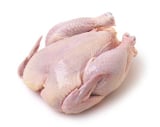 Ingredients
One 3-pound chicken, neck reserved
3 1/2 quarts water
4 carrots—2 coarsely chopped, 2 sliced 1/4 inch thick
4 celery ribs—2 coarsely chopped, 2 sliced 1/4 inch thick
1 unpeeled onion, quartered
1 large unpeeled garlic clove, smashed
1 teaspoon whole black peppercorns
1 large fresh bay leaf
6 parsley sprigs
2 thyme sprigs
Kosher salt
1/2 pound thin egg noodles
1/4 cup finely chopped flat-leaf parsley
Directions
In a stockpot, combine the chicken and neck, water, chopped carrots and celery, onion, garlic, peppercorns and herbs; bring to a boil.
Cover partially and simmer over low heat for 30 minutes.
Transfer the chicken to a plate. Discard the skin. Pull the meat off the bones, cut into 1/2-inch pieces and refrigerate.
Return the bones to the pot. Simmer for about 1 hour.
Strain the broth into a bowl and rinse out the pot. Return the broth to the pot and boil until reduced to 8 cups, 30 minutes. Season with salt.
Add the sliced carrots and celery to the broth, cover and simmer until just tender, 12 minutes.
In a saucepan of boiling salted water, cook the noodles; drain and cool under running water.
Add the noodles, chicken and parsley to the pot and bring to a simmer. Serve hot.
Serves 6.
Information
Category

Soups/Stews, Pasta/Noodle

Cuisine

North American