Easy & Expert Recipes For Escarole Salad
Escarole Salad Two Ways — Beginner and Expert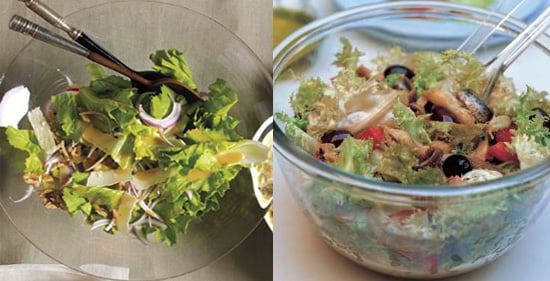 I used to think cold weather meant the world was relegated to eating apples, pears, sweet potatoes, and butternut squash. But as I grew older I was introduced to a cornucopia of Winter produce, from blood oranges and kumquats to kale and leafy chicories. One of my top picks is übernutritious escarole, a greenish-white chicory that's not quite as bitter as radicchio and frisée.
Escarole is sweeter sautéed, but adds a nice crunch in a seasonal salad. Roughly chop it and toss with Dijon vinaigrette to cut the bitterness. Or, for something a bit more elaborate, make xató, a classic Catalan salad topped with a romesco-like sauce, and served with anchovy, tuna, and salt cod (baccala). Make the most of January's bounty with two different types of escarole salad when you read more.
Ingredients
1 cup walnuts, roughly chopped
1 large head escarole, torn into pieces (about 12 cups)
1 small red onion, thinly sliced
2 ounces Parmesan, shaved (about 1/2 cup)
2 tablespoons red wine vinegar
1 tablespoon Dijon mustard
kosher salt and black pepper
1/3 cup olive oil
Directions
Heat oven to 375° F. Spread the walnuts on a rimmed baking sheet and toast, tossing occasionally, until fragrant, 8 to 10 minutes.
In a large bowl, combine the escarole, onion, Parmesan, and toasted walnuts.
In a small bowl, whisk together the vinegar, mustard, ½ teaspoon salt, and ¼ teaspoon pepper. Whisking constantly, gradually add the oil. Toss with the salad.
Serves 8 as a first course.

Nutritional information per serving: Calories 208, Fat 19g, Saturated Fat 3g, Cholesterol 5mg, Sodium 277mg, Protein 6g, Carbohydrate 5g, Fiber 3g.
Information
Category

Greens , Salads

Cuisine

North American
Ingredients
6 ounces salt cod
8 anchovy fillets
6 oz. olive oil–packed canned tuna, drained and separated into 1-inch chunks
2 ripe tomatoes, coarsely chopped
3⁄4 cup black olives, preferably Arbequina
1 head escarole, cored and separated into leaves
For the sauce:
1⁄2 cup blanched almonds
4 nyora or romesco peppers or ancho chilies, 1 tsp. pimentón or hot paprika
1 slice coarse country white bread, about 1 oz., crusts removed
1 tablespoon red wine vinegar
8 to 10 hazelnuts
4 garlic cloves, peeled
1⁄3 cup extra-virgin olive oil
Salt, to taste
Directions
To prepare the salt cod, place it in a bowl of cold water to cover, cover the bowl and refrigerate for 3 days, changing the water once a day.
To make the sauce, in a dry, heavy fry pan over medium heat, toast the almonds until browned, about 30 seconds. Transfer to a plate to cool. If using nyora peppers, let them soak in boiling water for 10 minutes, then scrape the flesh off the skins. Sprinkle the coarse country bread with the vinegar. Using a large mortar and pestle, grind together the almonds, hazelnuts, garlic, the peppers and the vinegar-soaked bread until a thick, reddish paste forms. Alternatively, process the ingredients together in a food processor, making sure the mixture remains coarse. Add the olive oil in a thin stream, stirring constantly with a wooden spoon, until the ingredients are thoroughly combined and the sauce is just liquid enough to be poured. Season with salt. (The sauce will keep in an airtight container in the refrigerator for 1 week. Use leftover sauce with roast meats or vegetables.)
Remove any bones and skin from the salt cod, then shred the meat with your fingers into thin strips. Cut or tear the anchovy fillets into strips. Place the salt cod, anchovies and tuna in a bowl with the tomatoes and olives and toss to combine. Pour over enough of the sauce to coat everything thickly and toss again.
Just before serving, in a large salad bowl, toss the escarole with the salt cod mixture. Serve immediately.
Serves 6.
Information
Category

Salads, Seafood

Cuisine

Spanish/Portuguese