Easy and Expert Recipes For Greek Lemon Chicken Egg Soup
Greek Avgolemono Soup Two Ways — Beginner and Expert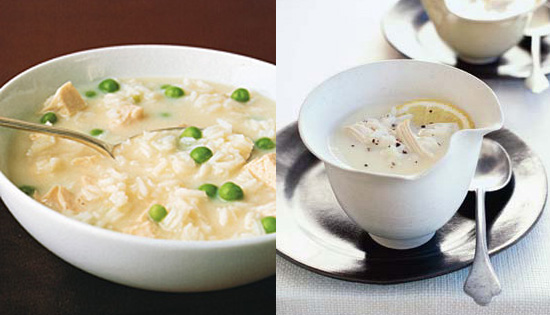 Seeing PartySugar's menu for a Greek dinner made me realize how long it's been since I've made my favorite Greek dish, avgolemono. If you've never heard of this homey soup (av-what?), avgolemono is a Mediterranean specialty made up of four basic elements: chicken stock, eggs, lemon, and rice. When preparing it, remember to add the hot broth gradually to the lemon-egg mixture, otherwise you will cook pieces of the egg. Prefer not to work with raw poultry? Throw already-cooked chicken breast into the simmer. Or, make it a complete, from-scratch meal by poaching chicken breasts with rice, vegetables, and herbs. See which recipe fits your cooking style when you read on.
Ingredients
6 cups low-sodium chicken broth
3/4 cup long-grain rice
2 cooked chicken-breast halves, skin discarded and meat shredded
2 large eggs, at room temperature
1/3 cup fresh lemon juice
1 lemon, thinly sliced
Directions
Heat the broth and rice in a large saucepan to boiling. Reduce heat to simmering; cover and cook 15 minutes or until the rice is cooked. Add the chicken. Remove the soup from heat and cover.
Whisk the eggs and lemon juice in a medium bowl until frothy. Remove about 1 cup hot broth from the soup and slowly add it to the eggs, whisking continually. Slowly stir the warmed eggs into the soup.
Ladle into bowls and serve immediately with a slice of lemon.
Serves 4.
Information
Category

Other, Soups/Stews

Cuisine

Greek
Ingredients
1-1/2 quarts canned low-sodium chicken broth or homemade stock
2 cups water
1-1/2 teaspoons salt
1 pound boneless, skinless chicken breasts (about 3)
1/2 cup long-grain rice
3 eggs
3 tablespoons lemon juice
1/2 cup frozen peas, defrosted
3 tablespoons chopped fresh dill
Directions
In a large pot, bring the broth, water, and 1 teaspoon of the salt to a simmer. Add the chicken breasts to the pot and simmer until they are just done, about 10 minutes. Remove the chicken breasts from the pot; when they are cool enough to handle, cut them into bite-size pieces.
Meanwhile, stir the rice into the simmering broth. Increase the heat and boil until the rice is almost tender, about 10 minutes. Reduce the heat to the lowest possible temperature.
In a medium glass or stainless-steel bowl, beat the eggs, lemon juice, and the remaining 1/2 teaspoon salt until frothy. Remove about 1 cup of the hot broth from the pot. Pour the hot liquid in a thin stream into the egg mixture, whisking constantly. Pour the mixture back into the pot and stir until the soup begins to thicken, about 3 minutes. Do not let the soup come to a simmer, or it may curdle. Return the chicken to the pot and stir in the peas and chopped fresh dill.
Serves 4.
Information
Category

Other, Soups/Stews

Cuisine

Greek