Easy and Expert Recipes For Hamburger Sliders
Sliders Two Ways — Beginner and Expert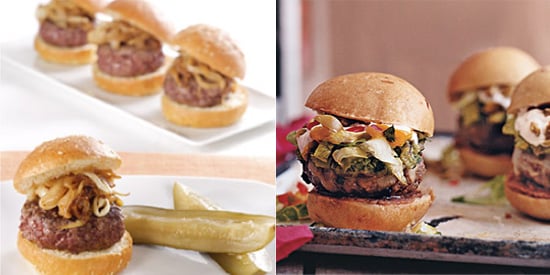 A nationwide celebration as big as the Super Bowl is the perfect occasion for serving all-American hamburgers. Translate them into game day eats by passing around plates of bite-sized sliders. Keep them simple (and not too sloppy!) by topping them sparingly with caramelized onions. Or, if you're feeling up to the challenge, take inspiration from another football favorite — seven-layer bean dip — for a winning combination of fixings. Get both finger foods when you read more.
Ingredients
9 ounces ground beef
Coarse salt and freshly ground pepper
1 tablespoon clarified butter
2 tablespoons canola oil
2 medium onions, thinly sliced
3 mini brioche buns, halved crosswise
Pickle spears, for serving (optional)
Directions
Season beef with salt and pepper. Form into three equal-size patties; set aside.
In a large skillet, heat butter over medium-high heat, add onions. Cook, stirring occasionally, until caramelized, about 10 minutes.
In a cast-iron skillet, heat oil over medium-high heat. Add beef patties and cook about 1 1/2 minutes for medium-rare.
Place patties between brioche halves; top with onions. Serve immediately with pickles, if desired.
Makes 3 hamburger sliders.
Information
Category

Meats, Appetizers

Cuisine

North American
Ingredients
8 ounces canned refried beans
2 pounds ground beef sirloin
1 cup beer
1/4 cup grated onion
3 cloves garlic, grated or finely chopped
1-1/2 tablespoons grill seasoning
1 tablespoon chili powder, preferably chipotle
1 tablespoon smoked sweet paprika
Extra-virgin olive oil, for drizzling
1 Hass avocado
1/2 small red onion, finely chopped
2 jalapeño chiles, seeded and finely chopped
3 tablespoons finely chopped cilantro
1 teaspoon grated lime peel, plus juice of 2 limes
Salt
2 yellow tomatoes, seeded and chopped
1/4 cup mustard
1 cup sour cream
1 tablespoon hot pepper sauce (eyeball it)
1 teaspoon ground cumin (about 1/3 palmful)
6 slices deli pepper jack cheese, quartered
12 mini hamburger buns, split
1 cup shredded romaine lettuce
1/2 cup green olives with pimiento, chopped
Directions
In a small skillet, heat the beans over medium-low heat; stir in a splash of water.
In a large bowl, combine the sirloin, beer, onion, two-thirds of the garlic, the grill seasoning, chili powder and paprika. Divide into 4 equal portions, then form each portion into three 3-inch patties. Drizzle with olive oil.
In a small bowl, mash the avocado with half each of the red onion, jalapeños and cilantro. Mash in the lime peel and juice and the remaining one-third of the garlic; season the guacamole with salt. In another small bowl, toss the tomatoes with the mustard and the remaining half of the red onion, jalapeños and cilantro; stir, then season with salt. In another bowl, stir together the sour cream, hot sauce and cumin.
Preheat a large grill pan to medium-high. Add the patties and cook, turning once, for 6 minutes for medium. During the last minute of cooking, top each patty with 2 cheese slices and tent with foil to melt.
Top each bun bottom with a small spoonful of refried beans, a beef patty, some lettuce, guacamole, salsa, spicy sour cream and a sprinkling of olives; cover with the bun tops. Serve the sliders with any remaining toppings.
Makes 12 sliders.
Information
Category

Meats, Appetizers

Cuisine

North American